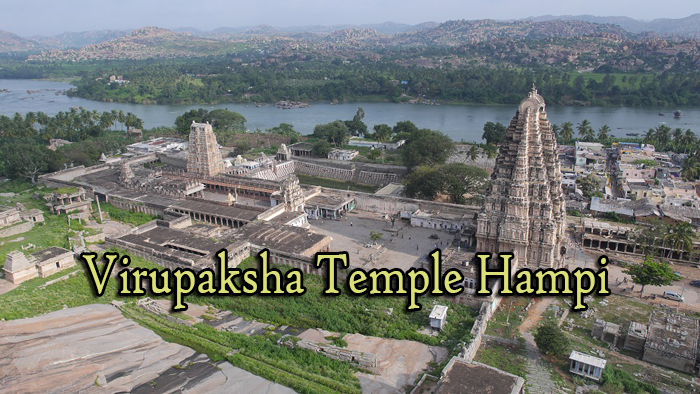 The Virupaksha Temple in Hampi is dedicated to lord Shiva. The distance from Bangalore to Hampi is about 350 km. Hampi is a temple town in South India and is acknowledged as one of the World Heritage Sites of UNESCO. Virupaksha Temple is dedicated to lord Shiva. This temple was constructed in Lakkana Dandesha's assistance who was a commander under King Deva Raya II.
Distance (From Hampi Bus Station): 
0.4 Kms
Visited From: 
Hampi Bus Station
Trip Duration (Including Travel): 
1 Hour
Transportation Options: 
Cab / Auto / Rental Bike / Walk/Trek
Timings: 6 AM – 1 PM and 5 PM – 9 PM
At a distance of 400 m from Hampi Bus Stand, Sri Virupaksha temple, the most famous and important temple of Hampi, is located at the western end of Hampi Bazaar in Hampi. It is situated on the southern bank of the Tungabhadra River and it is part of the Group of Monuments at Hampi, designated as an UNESCO World Heritage Site.
Virupaksha Temple is dedicated to Lord Shiva and is renowned as one of the most sacred temples in Karnataka. Virupaksha is an incarnation of Lord Shiva, and among all the surrounding ruins, this temple is intact and is still in use. This temple is also called Pampapathi temple.
According to history, this temple has been functioning uninterruptedly ever since it's inception in the 7th century AD and is one of India's oldest functioning temples. Originally a small, humble shrine it was expanded to its present magnificence during the reign of the Vijayanagara kings, though additions to its temple were also made by the Chalukyan and Hoysala eras.
The Virupaksha temple is the main center of pilgrimage at Hampi. The main temple consists of a large gopura (temple tower) of 160 feet tall with nine tiers facing Hampi Bazar followed by another small gopura, large portico, a beautifully carved mandapa and the main sanctum. There inner walls are supported by large corridor all along with beautiful towers. The main tower dates back to early 15th century and was renovated in the 16th century by Krishnadevaraya.
Krishnadevaraya also built a Ranga Mandapa in front of the sanctum, and embellished it with Vijayanagar style bas reliefs and murals. Several of Shiva's manifestations, and the ten incarnations of Vishnu are portrayed here. The scene from Mahabharata depicting Arjuna's shooting the fish to marry Draupadi is beautifully depicted here. There is also a mural depicting Saint Vidyaranya, the spiritual founder of Vijayanagar.
The idol of Lord Virupaksha in the inner sanctum is in the form of shivalinga. His consort Pampa is believed to be the daughter of Brahma. The Bhuvaneswari shrine within the Virupaksha complex has highly ornate pillars, carved ceilings & doors and elaborate relief work, with characteristics of later Chalukyan architecture. There is a shrine to Vidyaranya, the spiritual founder of Vijayanagar in this temple. There is also a triple headed Nandi statue.
The annual chariot festival in February and marriage festivities of Virupaksha and Pampa in December are the major festival at this temple.