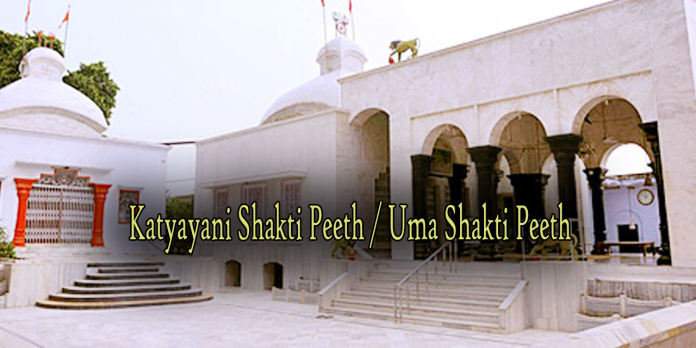 Katyayani Peeth Vrindavan otherwise known as uma shakti peeth is one among the 51 Shakti Peethas. It is said that, the Ringlets of Hair of Maa Sati fell here, when lord Vishnu in order to relieve lord Shiva from grief of losing his wife Sati, used his 'Sudarshan Chakra' to incise Maa Sati Body. Here the idol of Maa Sati is called as 'Uma' and lord Shiva is worshiped as 'Bhotesh'.
Distance (From Vrindavan Railway Station): 

1 Kms

Visited From: 

Vrindavan Railway Station

Trip Duration (Including Travel): 

1 Hour

Transportation Options: 

Cab / Auto

Timings: 7 AM – 11 AM and 5.30 PM – 8 PM
Every year during Navratra festival, the temple is flooded with pilgrims from different parts performing offerings to the Goddess Katyayani.
At a distance of 1 km from Vrindavan Railway Station, Katyayani Peeth Temple is one of the 51 Shakti Peeths and known as Uma Shakti Peeth. It is situated within Bhuteshwar Mahadev Temple in Vrindavan.
Pooja Timings:
The pooja and the bhog aarti are performed by Swami Nityananda and his trained priests daily. Priests chant Durga Shaptsati (Chandi Paath) daily. The Durga poojas are performed by the Shatchandi Paath, every Navaratra.
The timings for the pooja are 7 am to 11 am and 5.30 pm to 8.00 pm
Festivals at Katyayani Peeth:
Holi – a five day festival in which people play with colors is being celebrated from the time of Lord Krishna.
Basant Panchami is another festival that is celebrated by the people with great devotion and is dedicated to Shri Chaitanya Mahaprabhu.
Krishna Janmastami is again a huge festival and embarks the birth of Lord Krishna. During this day, people keep fast (Not eating food) and celebrate the birth of lord Krishna on Mid night.
Katyayani Vrat, Navratri or Durga Puja , Diwali are other famous festivals celebrated at the Uma Shakti Peeth.
This temple is dedicated to Goddess Parvati, in the form of Katyayani. The current structure was constructed in 1923 by Yogiraj Swami Keshvanand Bramachari. Here the worship idols are Devi as Uma and Lord Shiva as Bhutesh. There is a sword of Devi in the temple which is popularly known as Uchawal Chandrahaas. According to the belief of local people, girls worship Mata Katyayani to get Sri Krishna as their fellow mate.
According to legend, this place is believed to have been the site where Devi Sati's hair fallen. According to other versions, Katyayani is the Yogmaya power of Vishnu, whom he ordered to be born as the daughter of Nanda and Yashoda, while he was born as Krishna to Devaki and Vasudev. Also, the Adya Shastra has established Katyayani as the deity of Vrindavan.
The architecture of the temple is very beautiful. The exterior of the temple was built using white marble and huge pillars support the temple. Pillars are made with black stone and are beautiful. Just adjacent to the steps that lead to main courtyard, two gold-coloured statues of lions are seen in standing posture. The temple has shrines for five different deities. Along with the goddess Katyayani, Lord Shiva, Lord Lakshmi Narayan, Lord Ganesh and Lord Surya are worshipped here.