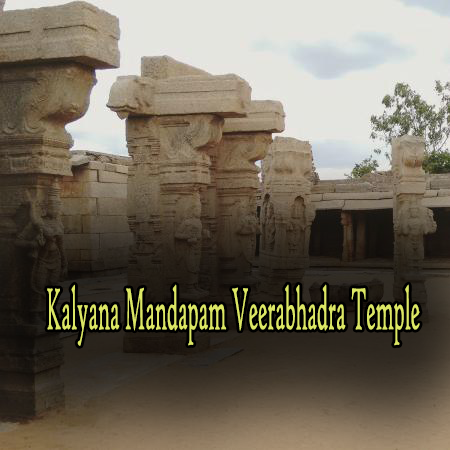 Kalyana Mandapa situated on the rear side of the main Veerabhadra Temple within the same complex is another major attraction in the complex with extensive artistic work similar to the mukha-mandapa of the Veerabhadra Temple. The path past Nagalinga leads to the Kalyana Mandapa.
Distance (From Lepakshi Bus Station): 

0.4 Kms
Visited From: 

Veerabhadra Swamy Temple
Trip Duration (Including Travel): 

30 Mins
Place Location: 

Inside Veerabhadra Swamy Temple Complex
Transportation Options: 

Walk/Trek
Timings: 6 AM – 7 PM
Address:
Lepakshi, Ananthapur, Andhra Pradesh 515331, India
Accomadiation:
The booking for this hotel is accepted with a minimum of One day in advance. Tourist is required to carry the confirmed Accommodation voucher / Ticket along with a valid ID proof.
At a distance of 400 m from Lepakshi Bus Stand, The Kalyana Mandapa is situated inside the Veerabhadra Temple complex (Lepakshi Temple). It is among the prime places to visit in Lepakshi.
The Kalyana Mandapa built on an elevated platform follows similar structure to that of main temple mandapa with circular arrangement of pillars. This structure was built to perform the Kalyana ceremony for Lord Shiva and Parvathi during annual festivals of the temple. The carving in this beautiful mandapa depict that several gods and saints from heaven attend the wedding ceremony – Devendra, Vasishta, Brihaspathy, Viswamita, Vayu, Yama, Varuna, Kubera, etc.
There are about 38 pillars in the mandapa carved out of granite stone have beautiful carvings of Shiva Parvathi, Panchamukha Brahma, Dathatreya, Gandharvas, three headed cow, Saptamaharshis, along with several other gods, human and animal figures. This mandapa without the roof exhibits some of finest sculptures in the temple.
There is a large open area beyond the kalyana mandapa towards the rare side of the temple with a large corridor surrounding the rear wall. This area was used for cultural and recreational activities during Vijayanagar rule. The rocks of the hill provide natural base to the temple grounds.