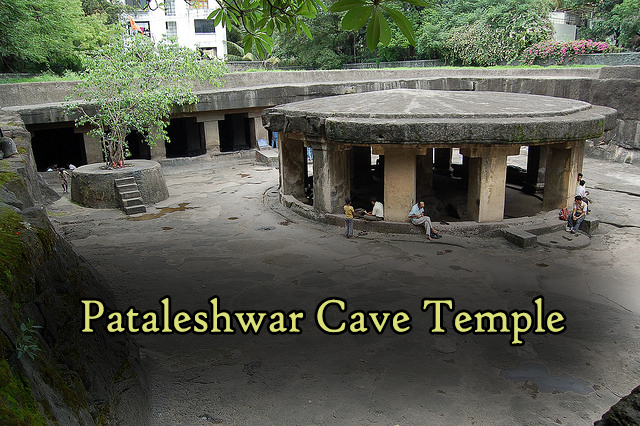 The Pataleshwar Cave Temple is a rock-cut cave temple, carved out in the 8th century in the Rashtrakuta period. It is located in what is now Pune, in the state of Maharashtra, India.
Distance (From Pune Railway Station): 

3 Kms

Visited From: 

Shaniwar Wada (1 km)

Trip Duration (Including Travel): 

30 Mins

Place Location: 

On Jangli Maharaj Road In Shivajinagar

Transportation Options: 

Cab / Walk/Trek

Timings: 8.30 AM to 5.30 PM

Address: 

Jangali Maharaj Rd, Revenue Colony, Shivajinagar, Pune, Maharashtra 411005
At a distance of 3 km from Pune Junction, Pataleshwar Cave Temple is an ancient rock cut cave temple located on Jangli Maharaj road in Shivajinagar area of Pune. It is one of the top places of sightseeing in Pune and is maintained by Archaeological Survey of India (ASI).
The temple is also known as Panchaleshvara or Bamburde Temple and is dedicated to Lord Shiva. The rock-cut cave temple was carved out in the 8th century AD, during the Rashtrakutas Period. The cave temple bears resemblance with the rock-cut temples of Ellora. It has been declared as a protected monument by the government of Maharashtra.
Made of basalt rock, the cave temple is believed to have been cut out from a single rock. A linga, the symbol of Shiva, is housed in the sanctum, which is a cube-shaped room about 3 to 4 m high. On each side of the sanctum, two smaller cells are present. A circular Nandi Mandapa, with its umbrella shaped canopy supported by square pillars, is located in front of the cave. This is one of the peculiar structures of Pataleshwar. Due to a fault line found at the back of the sanctum sanctorum, which made additional sculpting unsafe, the temple was left incomplete. Outside the basalt entryway, a brass temple bell hangs. In the principle worship area, sculptures of Sita, Rama, Laxman and a host of other Hindu Gods and Goddesses are located.
Famous Places Near by:
Near the temple lies a museum that is enlisted in the Guinness Book of World Records. A grain of rice that has around 5,000 characters inscribed on it is the prominent highlight of the museum. The famous Jangli Maharaj Temple is also very close to this monument. The complex of this cave temple is lit with thousands of oil lamps on the occasion of Tripuri Pournima (the full moon day of the Kartik Month).