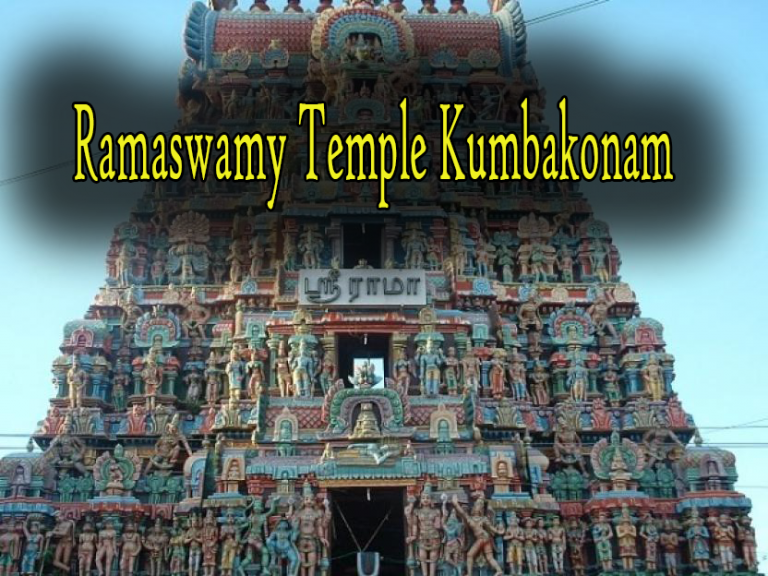 Ramaswamy Temple is a Hindu temple dedicated to Lord Rama, an incarnation of Lord Vishnu located in Kumbakonam, Tamil Nadu, India. The Ramaswamy Temple which depicts the paintings of Ramayana is another important Vaishanavite temple in Kumbakonam. The greatness of Ramaswamy Temple is said to be the only temple where Lord Rama, Goddess Sita are in the same platform and Lord Hanuman is playing the Veena instead of reading the Ramayana. The entire deity is said to be made from Saligrama monolith. The Temple is filled with intricate carvings in its pillars.
At a distance of 2 km from Kumbakonam Railway Station, Ramaswamy Temple is an ancient Hindu temple located on the southeastern portion of the Porthamarai Kulam in Kumbakonam.
Distance (From Kumbakonam Railway Station): 
2 Kms
Commonly Visited From: 
Adi Kumbeswara Temple (400 m)
Trip Duration (From Adi Kumbeswara Temple , Including Travel): 
30 Mins
Place Location: 
Near Adi Kumbeswara Temple
Transportation Options: 
Walk/Trek
Address : Sarangapani South Street, Valayapettai Agraharam, Kumbakonam, Tamil Nadu
Sri Rama Navami is celebrated in a grand manner on the 9th day after New Moon in March/April. This is one of the five Vishnu temples that are connected with Mahamaham festival which happens once in 12 years in Kumbakonam, the other four temples are Sarangapani Temple, Chakrapani Temple, Rajagopalaswamy Temple and Varahaperumal Temple.