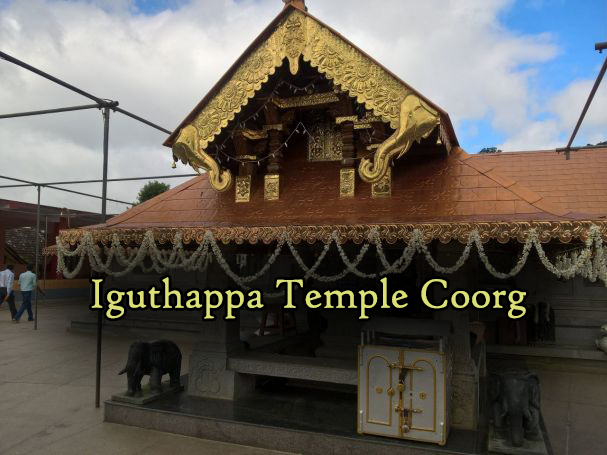 Igguthappa is an important deity for the people of Kodagu, especially of the Kodava and The fourth brother Igguthappa took base at Malma in Kodagu and a temple was built for him at Paadi naad.
Distance (From Coorg (madikeri)): 
35 Kms
Visited From: 
Nalknad Palace – Kakkabe
Trip Duration (Including Travel): 
1 Hour
Place Location: 
3 Kms From Kakkabe
Transportation Options: 
Cab / Auto
Travel Tips: Iguthappa Temple is about 4.5 Kms from Nalknad Palace and can be visited together.

At a distance of 3 km from Kakkabe & 35 km from Madikeri, the Paadi Iguthappa Temple is a sacred Hindu temple situated at Kakkabe in Coorg district of Karnataka. It is considered to be the most important temple of the Kodavas and also one of the best places of Pilgrimage in Coorg.
Paadi Iguthappa Temple is a famous temple in Kakkabe that was built in 1810 by Linga Rajendra. The temple became a prominent place of worship during Linga Rajendra's reign. Dewan Apparanda Bopu renovated the temple after Chikka Veerarajendra, the son of Linga Rajendra, deposed by the British. The temple was reconstructed by Karnataka Government in 2008. Descendants of Apparanda Bopu along with other devotees have provided silver cladding for the entrance door.
The temple is dedicated to Lord Subramanya, also known as Iguthappa by the Kodavas. Lord Iguthappa is an important deity for the people of Kodagu, especially Kodavas. He is known as their Lord of rains and crops. The temple resembles Kerala style of architecture. Situated on a hillock, this temple has a long stretch of steep stairs that connect the temple to the base. The idol of Lord Iguthappa is seated on panipeetha.
An annual festival called Kaliyarchi festival is held at the temple in the month of March where farmers offer prayers and make offerings for rain during the year. Offerings are made in the form of Tulabhara, where devotees weigh themselves against fruits, rice, coconuts etc and offer it to the deity.
Timings: 5. 30 AM- 2 PM & 6 – 7 PM