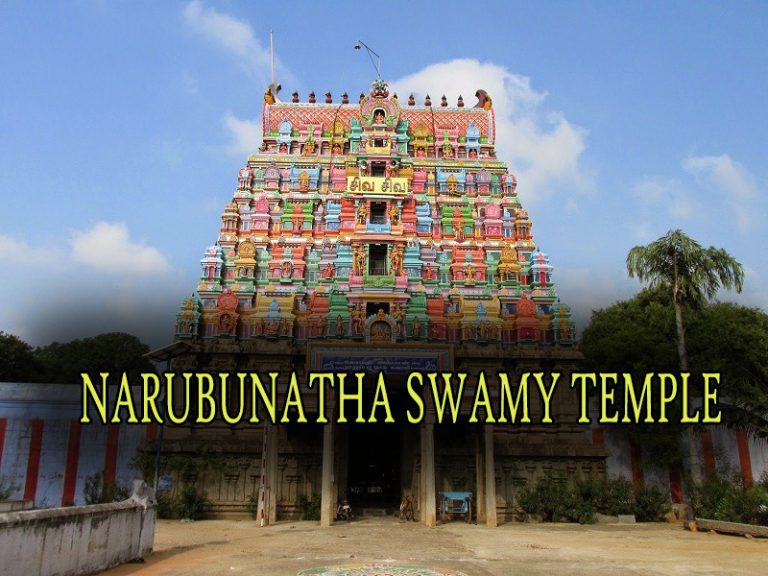 Narubunatha Swamy Temple is an antiquated Hindu temple arranged at Thirupudaimaruthur close Veeravanallur in Ambasamudram Taluk of Tirunelveli area, Tamilnadu. Otherwise called Thirupudaimaruthur Temple, the temple is devoted to Lord Shiva and is over 1200 years of age. Maraman, the lord of Madurai and his child had constructed a little temple in 650 BCE.
Distance (From Tirunelveli): 
30 Kms
Commonly Visited From: 
Tirunelveli
Trip Duration (From Tirunelveli, Including Travel): 
2 Hours
Place Location: 
At Thirupudaimaruthur
Transportation Options: 
Bus / Cab
Timings: 6 AM – 11 PM & 4.30 PM – 8 PM
At a distance of 16 km from Ambasamudram and 30 km from Tirunelveli, Narubunatha Swamy Temple is an ancient Hindu temple situated at Thirupudaimaruthur near Veeravanallur in Ambasamudram Taluk of Tirunelveli district, Tamilnadu. Situated at the merging place of Gadana River & Thamirabarani River, this temple is one of the oldest temples in Tirunelveli region.
Also known as Thirupudaimaruthur Temple, the temple is dedicated to Lord Shiva and is more than 1200 years old. Maravarman, the king of Madurai and his son had built a small temple in 650 BCE. After that, Pandiyas, Vijayanagara Kings and Kalakkad Kings expanded the temple. The sanctum sanctorum has a huge Shiva lingam, which is known as Pudaar Jeeneshwarar or Narumbunathar. The Shiva lingam leans slightly towards the left side and has marks of scratches made by deer and sickle cut.
According to the legend, the region was under the rule of Maravarman then. He came to this place dense with Marudha trees for hunting. He targeted a deer which hid itself in the hole of a tree. The king ordered to cut the tree to get the deer out. But blood came out of the tree where the king found a Shiva lingam with a hit on the head caused by the instrument. He heard a voice saying that Shiva himself graced them through the deer. He built the temple as directed by the Lord.
Situated in 6 acres of land, Thirupudaimaruthur Temple's compound walls measure 575 feet in length. The temple gopuram has five tiers. There are many niches in the walls with gods and goddesses. The main deities are Narumbunathar and Goddess Gomati. The idol of Ambal is made up of Rudraksha. The goddess shrine in this temple is having great reputation since she is a healer of diseases. Women possessed with evil spirits used to stay in the Mani mandapam for several days and pray for their cure. There is also a separate shrine for Natarajar.
The 10 day Thaipoosam in January-February, Ani Uthiram in June-July, Adi-Pooram in July-August, Navarathri in September-October, Mahashivaratri in February-March, Skanda Shasti in October-November and Panguni Uthiram in March-April are the major festivals celebrated in the temple.