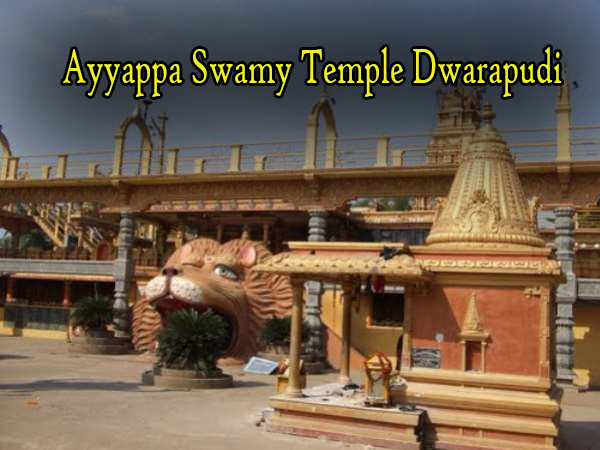 This is a temple complex where Swami Ayyapa temple and four floor high Eswara temple is located side by side. Popularly known as Sabarimala of Andhra Pradesh this temple is visited by many devotees of nearby places and those who can't afford to visit Sabarimala in Keral state conclude their Swami Puja here. This Ayyapa Gudi of Dwarapudi is located in East Godavari district.
Ayyappa Swamy Temple Dwarapudi History
The Idol of Ayyappa Swamy was installed in the year 1989 by Kanchi Peetadhi Pathi Swamy Jayendra Saraswati. This idol was prepared using five metals gold, silver, lead, copper and iron which is called Panchaloha. There are 18 holy steps to the shrines similar to Sabarimala steps.Devotees who practice Ayyappa Deeksha will their Deeksha by visiting this temple. Unlike Sabarimala, there is no age restriction for female devotees, anyone can visit this holy shrine. Devotees who can't travel long used to end their Deeksha by visiting this temple. This temple will be heavily crowded during Makara Sankranti day. Thousands of devotees who were in Deeksha used to visit this temple to watch Makara Jyoti and Makara Vilakku which marks the ends of their Deeksha. On Makara Sankranti day, Lord Ayyappa will be taken out in a procession on a Hamsa shaped chariot.
There are many other temples located within the temple complex. There is a shrine for Lord Siva, Venkateswara Swamy and Saibaba. Huge Statues of Anjaneya, Ganesha, Nandi, Nataraja in the premises attracts devotees.
By road this temple is connected by a bypass road to NH 5. This bypass road starts from Katipudi Jn on NH 5. Katipudi is 130 KM from Visakhapatnam on NH 5. From Katipudi after travelling 21 KM on Kakinada road at Pithapuram you need to take a right turn at a four road junction towards Samalkot . At this junction at Pithapuram, towards your left side will be famous Sri Kukkuteswara Swamy temple. From here Samalkot is 12 KM and from Samalkot Dwarapudi temple is 32 KM. Further from Dwarapudi temple the same road will join NH 5 at Dowlaiswaram barrage at Rajahmundry ( 15 KM ). The eastern delta canal will be flowing at your left side upto the Dowlaiswaram barrage where it originates from river Godavari.
Ayyappa Swamy Temple Dwarapudi Timings:
Morning Hours: 6:00 am – 12:00 pm
Evening Hours: 4:00 pm – 9:00 pm
Address:
Kakinada-Rajahmundry Canal Road, Dwarapudi, Dwarapudi Village, Andhra Pradesh 533341