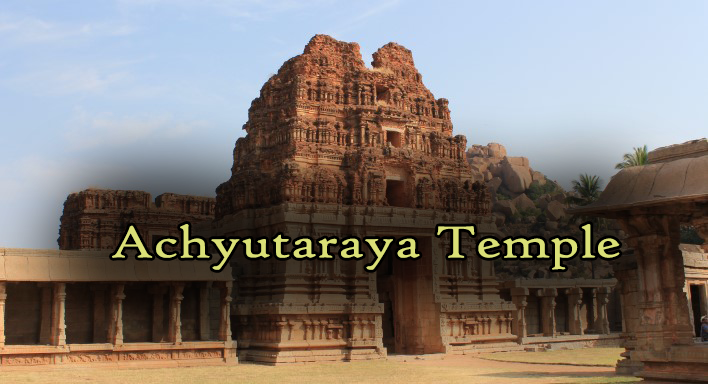 The Achyuta Raya Temple is in Hampi. It was built in 1534 AD. It is one of the major, splendid and awe-inspiring temples of Hampi located between the Matanga hills and Gandhamadana. This magnificent temple depicts Vijayanagara architecture style of temples in its best and most improved form. This was among the last dazzling temples that were constructed in the celebrated city of Hampi prior to the decline of the Vijayanagara Empire.
Distance (From Hampi Bus Station): 
1 Kms
Visited From: 
Hampi Bazaar (500m)
Trip Duration (Including Travel): 
30 Mins
Place Location: 
500 M From Hampi Bazar, Across Matanga Hill
Transportation Options: 
Walk/Trek
Timings: 8.30 AM to 5.30 PM
At a distance of 1 km from Hampi Bus Stand & 500 m from Hampi Bazaar, Achyutharaya temple is located between the Gandhamadana hill and Matanga hill. It is one of the last grand creations of the Vijayanagara dynasty before the fall of the empire.
This temple has been built during King Achyuta Deva Raya, by an officer Salakaraju Tirumaladeva. Achyuta Deva Raya was the younger brother of Krishna Deva Raya and succeeded him in 1529. The main deity of the temple is Lord Tiruvengalanatha, an incarnation of Lord Vishnu. The temple was originally named Tiruvengalanatha temple but gradually came to be known as Achyutaraya Temple
The temple was built in Vijayanagara style architecture. This temple complex has two enclosures, each marked by an entrance tower. The main temple is situated within the second enclosure. The main temple consists of a garbhagriha, an antarala, sukanasi, a rangamandapa and an ornate Kalyana mandapa.
The Kalyana mandapa of the temple is a spacious structure with a number of beautifully carved pillars. The basement of the mandapa has beautiful carvings of elephants. The temple pillars also have carvings of episodes from Ramayana and Mahabharata. Opposite to the temple is the shrine for Garuda, the vehicle of Vishnu. To the south west of the temple is a shrine for Devi. The temple has a small exit at the end of the compound, which leads to the top of the Matanga Hill.
Like other Hampi temples, this temple also has a bazaar starting right at the doorsteps of the temple. This street is known as Courtesan Street or Soolai Street. Now, major part of the temple and its surrounding structures are in a ruined state. The main deity in the temple is missing and the sanctum of the temple is standing on pillars placed by Archaeology Department to support the dilapidated structure.
Achyuta Raya Temple can be reached either from Kodanda Rama Temple through the Courtesan Street or by crossing the Matanga Hill using the steps beside the Monolithic Nandi at the opposite end of the Virupaksha Bazaar.