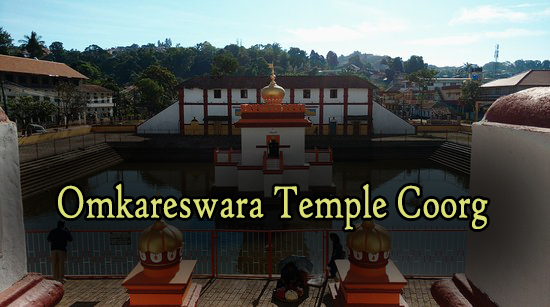 The Omkareshwara Temple is an ancient shrine dedicated to Lord Shiva. It is situated in the town of Madikeri in Coorg, Karnataka. The speciality of the temple is that its construction reflects a mix of Gothic and Islamic styles. It is a popular religious destination of Coorg.
Distance (From Madikeri Bus Station): 
1 Kms
Visited From: 
Madikeri Bus Station
Trip Duration (Including Travel): 
30 Mins – 1 Hr
Transportation Options: 
Cab / Auto
At a distance of 1 km from Madikeri Bus Station, Omkareshwara Temple is an ancient and magnificent temple situated near Madikeri Fort in Madikeri. It is one of the top places of pilgrimage in Madikeri and also one of the popular places of pilgrimage in Coorg.
Dedicated to Lord Shiva, Omkareshwara Temple was built by Lingarajendra in 1820 CE. The Shivalinga installed inside the temple is believed to be brought from Kashi. According to the legend, the king had killed a pious Brahmin to fulfill his political ambitions. However, the king started to have nightmares for his cruel deed. In order to free himself from the nightmares, the King sought the advice of a few wise men and they told the king to build a temple of Lord Shiva to regain his mental peace. The king followed their advice and brought a Shiva lingam from the holy town of Kashi and installed it at a newly constructed temple. The Shivalinga was named as Omkareshwara and regular rituals were performed.
The temple was built in both Islamic and Gothic style of architecture. The structure of the temple comprises of a large central dome with four minarets standing at four corners. The walls of temple are decorated with intriguing paintings and the bars of the windows were made of Panchaloha. The history of the temple is inscribed on a copper plate, which has been fixed at the entrance door frame.
Opposite the temple is a huge tank, with a mantapa in the center, connected by a causeway. A large number of fishes can be seen playing in the water of the tank and devotees are allowed to feed them. Mahashivratri is the major festival celebrated with great pomp and fervor at the temple.