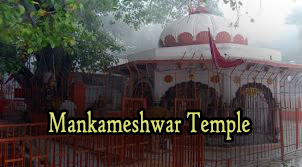 Mankameshwar Temple is one among the ancient temples devoted to Lord Shiva. According to Hindu mythology, it is believed that the Shiva Linga inside the Mankameshwar Temple was created by lord Shiva himself when lord Krishna was born in Mathura. Lord Shiva appeared in Mankameshwar Temple from Mount Kailash in order to visit the child form of Lord Krishna. Lord Shiva thought of creating a Linga here if Lord Krishna played in his lap.
Distance (From Agra Cantonment): 

5 Kms

Visited From: 

Agra Fort (1 km)

Trip Duration (Including Travel): 

30 Mins

Place Location: 

1 Km From Agra Fort

Transportation Options: 

Cab / Auto

Timings: 6 AM to 9 PM.
At a distance of 5 km from Agra Cantonment Railway Station and 1 km from Agra Fort, Sri Mankameshwar Temple is an ancient temple located at Rawatpara near the Jama Masjid in Agra.
Address:
Rawat Para Rd, Sheb Bazar, Mantola, Agra, Uttar Pradesh 282003
Timings for Mankameshwar Darshan:
In summers, temple opens at 4:40 am and close at 10:30 pm in the evening. While in winters, the temple opens at 5:10 in the morning and closes at 10:00 in the evening. On Mondays, it is open till 11:00 pm. Mangal Arati is performed at 5:00 in the morning and Abhishek Arati at 6:00 in the morning.
Mangal Arti: 5am
Abhishek Arti: 6am
Mangala Darshan: 6:30am to 6:45am & 6:45am to 7:00am
Shringar Darshan: 8:30am to 10:30am & 9:00am to 10:30am
Raj bhog Darshan: 11:30am to 12:00pm & 11:30am to 12:00pm
Utthapan: 5:00pm to 6:30pm & 5:15pm to 6:15pm
Sandhya Darshan: 7:00pm to 9:00pm & 6:45pm to 8:30pm
The temple under the guiding principles of Sri Nanaji and Sri Dwarikadeesh Nath of Mathura. Behind the shrine of lord Shiv, there are many small temples within the complex. These temples are devoted to numerous divinities such as goddess Saraswati, Gayatri and Ganga, and god Hanuman, Rama and Narsimha.
It is a ritual in Mankameshwar temple that people must not wear leather items, salwaar suits, pyjamas and pants. People must wear traditional Indian attires only, that is dhoti and sari. Sawan month, Mondays are auspicious and hence majority of believers worship lord Shiva on that day.