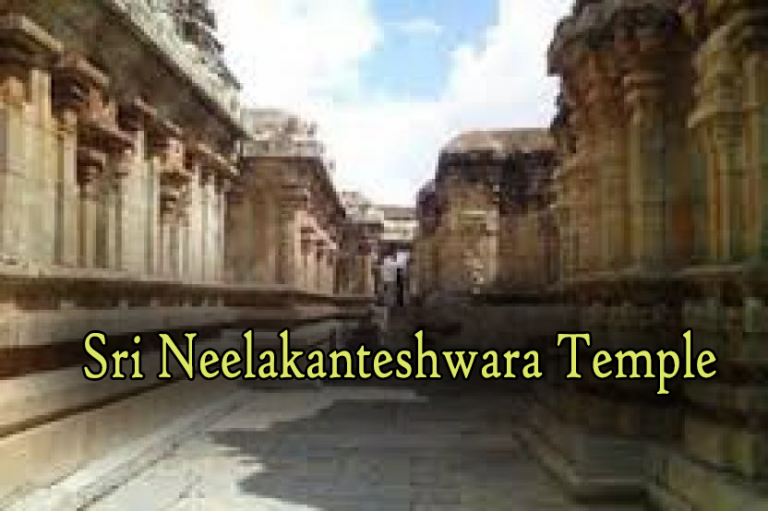 Neelakanteshwara Temple is located atop a hillock in Nizamabad. An important shrine for the Jains, the Neelakanteshwara Temple is a wonderful example of Jain architecture. It holds a special place in the minds of the Jains and a visit to this temple is considered special.An important day of worship is the Rathasaptami day, which falls in the month of January/February.
Distance (From Nizamabad Bus Station): 

2.2 Kms

Visited From: 

Nizamabad Bus Station

Trip Duration (Including Travel): 

1 Hour

Place Location: 

Within Nizamabad City

Transportation Options: 

Cab / Auto

Timings:Opening Time:
The temple is open from 6.00 a.m. to 11.00 a.m. and from 5.00 p.m. and 8.00 p.m.
At a distance of 2.2 km from Nizamabad Bus Station, Sri Neelakanteshwara Temple is an ancient temple situated in Nizamabad town.
festival celebrated:
The annual festival along with Chariot ceremony is celebrated in Jan/Feb on a grand scale. Another significant feature of the festival is that the sun rays fall on The Siva Linga only on the Rathasaptami Day (Chariot ceremony). Shivaratri is another important festival celebrated here.
Dedicated to Lord Shiva, Sri Neelakanteshwara temple is located in Kanteshwar colony of Nizamabad. This temple is famous for its stunning architecture. The deity Lord Shiva gains the name of Neelakanteshwara due to the presence of blue throat. It is about 500 years old temple and attracts a large number of devotees.
According to the history, Kanteshwar Temple was constructed by the Satavahana king Satakarni II for the Jains. Later during Kakatiya period the temple was converted as a Shiva temple. The structure resembles the nagara architecture. The artwork on walls and pillar of the temple represents the great architectural history.
The fort of the temple was constructed by the kings of Rashtrakuta dynasty , during 10th century. There is a 40 feet monolithic victory pillar built during the Rashtrakuta region.  This fort was occupied by Allauddin Khilji in 1311 AD, and subsequently went into the hands of the Bahmani Sulthanate .The present fort reflects the Asaf Jahi style of architecture.  This temple was constructed by Satavahana king, Satakarni – II, about 500 years ago.  The structure resembles the north Indian style of architecture.  The other deities worshipped are God Sathyanarayana and Goddess Annapoorna.