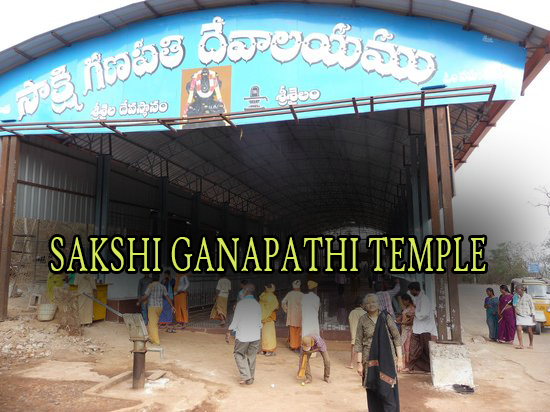 The Sakshi Ganapati Temple has been beautifully located at the hill town of Srisailam. It's placed amongst the backdrop of picturesque natural settings and enshrines a black idol of Lord Ganesha.
Distance (From Srisailam): 3 Kms
Trip Duration (Including Travel): 30 Mins
Place Location: Between Srisailam Temple& Srisailam Dam
Transportation Options: Cab / Auto
Timings: 6 AM to 9 PM
At a distance of 3 Km from Srisailam Mallikarjun Temple & 11 km from Srisailam Dam, Sakshi Ganapati Temple, situated between Srisailam Temple and Srisailam Dam, is one of the sacred spots frequented by pilgrims since times immemorial. The traditional belief is that the Ganapathi in this temple keeps regular account of all the pilgrims to tender Sakshyam (evidence) of their visit to this Kshetram and so named as Sakshi Ganapathi. It is one of the well known Srisailam places to visit.
Being the most loved Ganapati temple in Srisailam, all pilgrims generally tend to start their visit to Srisailam from Sakshi Ganapati temple. There is a modest climb of 10 steps to reach the sanctum of this temple.  The most alluring part about the temple is its location. The temple nestles amongst dense woods. The surroundings are calm and the environment almost enchanting. The area is also clean and quiet pristine, making it suitable for praying and meditation.
The mandapam of the temple is also small, which is adorned with pillars. To reach the sanctum of the temple, devotees have to climb not more than 10 steps, making it accessible to even older visitors. A known poet of 14th century, Srinatha has mentioned Sakshi Ganapati Temple in Kasi Khandam. It states that this ancient temple and Lord Ganpati idol was envisioned by great saint Agasthya which was during his visit to Srisailam.
Along with its religious importance, another reason to visit this temple is for mesmerising location. Nestled amid the lush greenery of dense forest, this temple offers calm surroundings, which promise devotees peacefulness and tranquility.
Address: Kurnool, Andhra Pradesh 518001