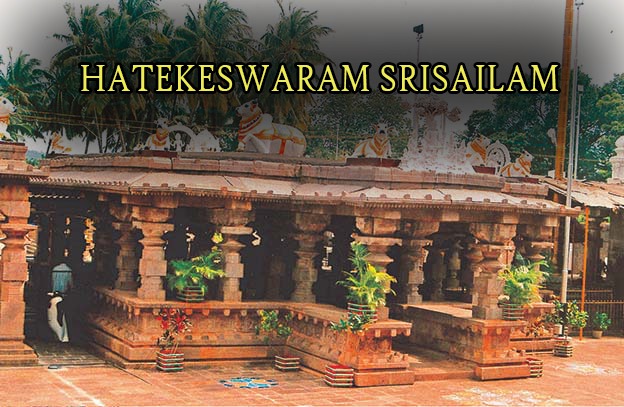 Hatekeswaram at a distance of 4.5 Km from Srisailam, 5 km from Srisailam Temple & 10 km from Srisailam Dam, Hatekeswaram, on the way to Sikharam and opposite to Phaladhara & Panchadhara is a small shrine dedicated Lord Shiva. According to legends, God Shiva appeared to a potter devotee at this place in Atika (Piece of Pot) and hence named as Atikeswaram and later it became as Hatakeswaram. Another tradition gives the name to this place from a particular yogic school known as Hatayoga, one of the forms of Astangayogas (the eight yogas). It is situated between Srisailam town & Srisailam Dam.
About temple of hatekeswaram:
This picturesque spot is on the way to Srisailam of above 5 km away in a serine atmosphere. According to the tradition at this place God Siva appeared to a potter devotee in Atika (piece of Pot) and hence named as Atikeswaram and later it became Hatakeswaram. There is a temple dedicated to Sri Hatakeswara Swamy and is a stone structure datable to 11th-13th Centuries A.D.
Distance (From Srisailam): 

4.5 Kms
Visited From: 

Phaladhara Panchadhara
Trip Duration (Including Travel): 

30 Mins
Place Location: 

Opposite To Phaladhara Panchadhara
Transportation Options: 

Cab / Auto
Located on the foothills of Nallamala Hills, Srisailam, Hathakesvara Temple holds a significant position among devotees. Anyone who comes for a Srisailam tour pays a visit to this ancient temple as well. This temple is dedicated to Lord Shiva. A mystical Shiva lingam has been enshrined in the temple.
Although smaller in structure, Hathakesvara Temple presents beautiful architecture. This temple is consisted of an open Mukha-mandapa with many pillars and a Garbhagriha.
It attracts devotees from everywhere with its significant history. One of the major attractions of Hathakesvara Temple is the belief that by visiting this temple and seeking blessing of the Sri Hatakeswara Swamy, a form of Lord Shiva, devotees can get rid of various diseases. The Shiva Lingam is said to hold exceptional powers to cure devotees of various kinds of illnesses.
Hatakeswaram is a small Village/hamlet in Srisailam Mandal in Kurnool District of Andhra Pradesh State, India. It comes under Hatakeswaram Panchayath. It belongs to Rayalaseema region . It is located 82 KM towards East from District head quarters Kurnool. 25 KM from Srisailam. 185 KM from State capital Hyderabad.
Dating back to 11th or 13th century, this temple is historically significant. It is the place from where the celebrated saint and philosopher Sri Sankaracharya wrote one of his philosophical treatises.
As per the legend behind Hatakeswaram temple, a potter, who was an ardent devotee of Lord Shiva, used to lead a simple life. He would give all his food to the pilgrims. One day to test him, Lord Shiva appeared in the semblance of a pilgrim and begged him for food. Unluckily, potter didn't have any food left in the home. Disheartened by his inability to offer food to the pilgrim, he prayed to Lord Shiva.
Pleased with his unflinching devotion, he appeared in a pot. This is the reason why this temple is known by the name of Atikeswaram, from the word Atika, meaning piece of pot. The word Atikeswaram later came to be known as Hatakeswaram.
As per another story, this temple received its name Hatakeswaram from the yogic school named Hatha Yoga. There are also a few findings, according to which, during medieval time there was a laboratory for Rasa Yoga at this place. This temple is also said to be a prominent centre for many secret sects of Saivism during ancient times.
There is no railway station near to Hatakeswaram in less than 10 km. How ever there are railway Stations from Near By town Kurnool. are the railway Stations near to Kurnool. You can reach from Kurnool to Hatakeswaram by road after . How ever Hyderabad Decan Rail Way Station is major railway station 179 KM near to Hatakeswaram
Some historians located a laboratory of Akhemy (Rasayoga) at this place during medieval times. The present temple dedicated to Hatakeswara Swamy is stone structure built around 12th century.
Timings of Hathakesvara Temple, Srisailam:
Hatakeswaram Temple Timings are from 6 AM to 9 PM, it is open on all days of the week.
Hathakesvara Temple Srisailam Address: Srisailam Project Township, Srisailam, Andhra Pradesh, 518101, India