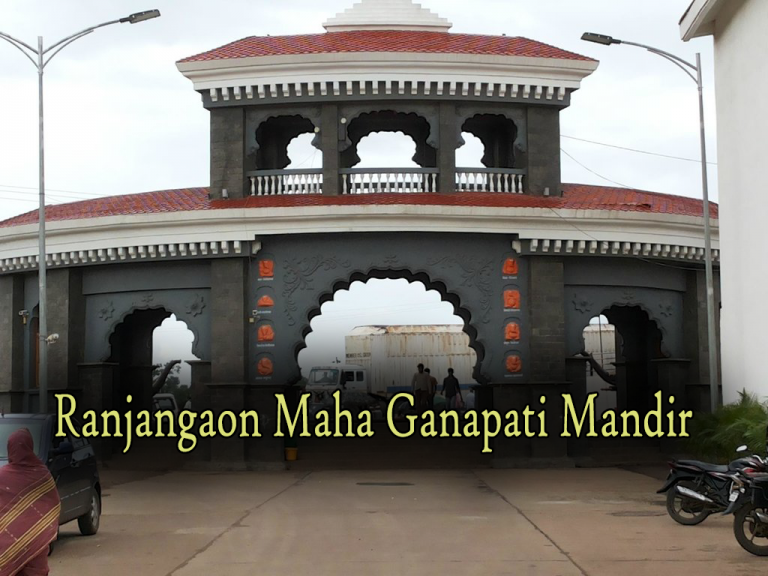 Ranjangaon Maha Ganapati Mandir Madhavrao Peshwa made a room in the basement of the temple to keep the idol of lord Ganesh. Later on Sardar Kibe of Indore renovated it. The idol of these lord Ganesh is also named as 'Mahotkat', and it is said that the idol has 10 trunks and 20 hands.
Distance (From Pune Railway Station): 

50 Kms

Visited From: 

Pune Railway Station

Trip Duration (Including Travel): 

2-3 Hours

Place Location: 

Rangangaon Village

Transportation Options: 

Bus / Cab

Timings: 5.30 AM to 10 PM.

At a distance of 50 km from Pune, Sri Maha Ganapati Temple is situated at Ranjangaon in Shirur Taluk of Pune district. This is one among the Ashtavinayak temples in Maharashtra and also one of the popular places to visit in Pune.

Puja Schedule:

Temple remains open from 5:30 in the morning till 10 at night.

Festivals And Poojas:

n Ranjangaon, villagers do not bring Ganesh idol in their houses, instead everybody comes in the temple for Ganesh pooja, in the month of Bhadrapada.

There is a special 6 day festival in the month of Bhadrapad, during which Mahabhog is offered to the temple deity on the fifth day. During this festival, the temple deity is also taken around the area in a flower be-decked palkhi (palanquin).

Large crowds gather during this festival to also witness the wrestling matches which are specially organized at this time.

On the sixth day devotees take darshan of murti & then go to Mahaganapati's temple by performing Lotangan (prostration) on the way.(lotangan means proceeding by rolling one's self over & over).

The temple faces east and has an imposing main gate which is guarded by two statues of Jaya and Vijay. The temple is designed in such a way that during Dakshinayan, the rays of the sun fall directly on the idol. The idol of Lord Ganesh is seated on a lotus with his consorts Siddhi and Riddhi on both sides. He is facing east in a cross legged sitting posture with broad forehead and the trunk turned towards the left. It is said that the original idol is hidden in the basement, having 10 trunks and 20 hands and is called Mahotkat. However, the temple authorities deny existence of any such idol.