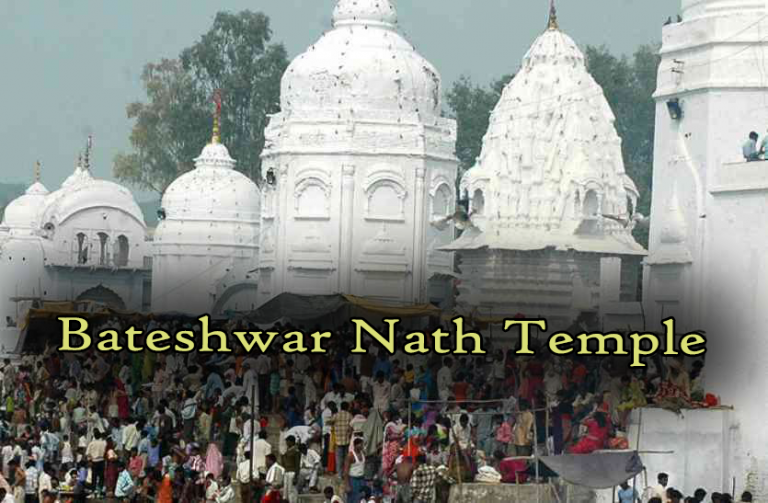 Bateshwar Temples is a famous temple complex situated in the National Chambal Wildlife Sanctuary which is about 70 kilometres away from the district of Agra, India.
Location: Agra District, Bah Tehsil, Bateshwar, Uttar Pradesh 283104
Temple Open and Closing Timings: 04:00 am to 09:00 pm During Shravan (August-September – Monday Only): 12:00 am to 09:00 pm.
Nearest Railway Station :Shikohabad Junction Railway Station Distance of 12 km.
Nearest Airport: Pandit Deen Dayal Upadhyay Airport, Agra at a distance of nearly 88.2 kilometres from Bateshwar. 
Best Time ot Visit: October to March is the best time to visit and (During Shravan Months).
District: Agra
Important festival: Maha Shivaratri.
Primary deity: Shiva.
The month of shravan is very important for Bateshwar temple. There are organized  fair in the month of shravan. The devotees bring the Ganges water in their Kanwar, which is about 160 km away from Bateshwar.
The temple complex is made up of 101 temples and is situated on the banks of River Yamuna. It is known for its religious importance in the country. The temples are dedicated to Lord Shiva or Bateshwar Mahadev and hence are called Bateshwar Temples. The serene temples scattered along the banks of River Yamuna is a peaceful sight, especially during sunrise and sunsets. One may want to sit still and meditate to experience tranquillity. A visit to the Bateshwar Temples is a must for those seeking clarity and harmony in life.