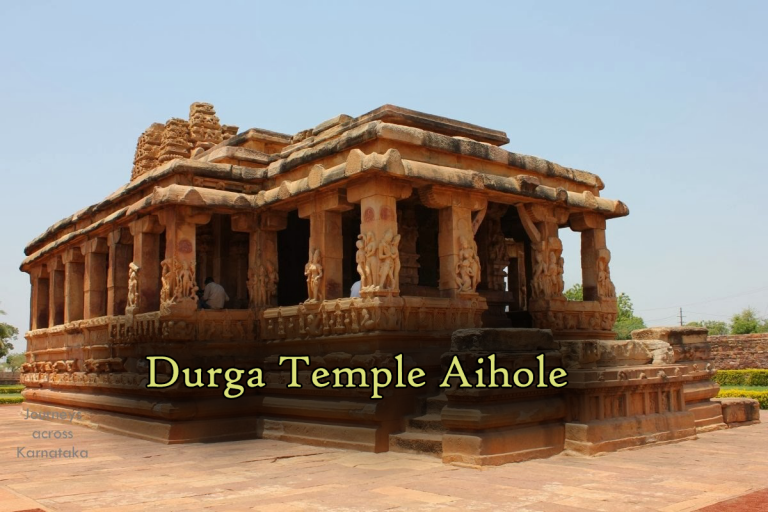 Aihole is considered to be the 'cradle of Hindu rock architecture' due to its beautiful temples. It is also mythologically an important place as it is believed that Parashurama washed his axe here after killing the Kshatriyas. The Durga Temple Aihole is a landmark of the religious life of Karnataka.  Maintained by the Archaeological Survey of India, the Durga Temple Aihole is also at the pending list of UNESCO World Heritage Sites. TheDurga Temple Aihole is dedicated to Lord Shiva or Lord Vishnu and exhibits a blend of Dravidian and Nagara architectural style. Durga Temple Aihole complex is well maintained and hence is neat and clean.
History and Legend of Durga Temple Aihole
The Durga Temple Aihole has several historical events surrounding it.
Durga Temple Aihole was built between the 7th and 8th century by the Chalukya dynasty.
Though the temple is mistaken to be a Durga Temple, it is actually not so. The temple is dedicated to Lord Vishnu and Shiva and is named as Durga Temple to mean that it is the temple of the fortress; Durga here actually means, 'Durg,' that is, the fortress.
The Durga Temple is a part of the fortification of the Marathas.
Durga Temple Aihole Timings
The Durga Temple Aihole is a heritage of the country. Tourists come to visit the marvellous architecture of the temple. These temples are no more in use and hence regular rituals and worship are not performed at this shrine. Hence you can enter the temple premises from morning till dusk.
Aihole was the earliest capital of the Chalukyas. Scattered around in the picturesque village are beautiful temples intricately carved and rich in details. The oldest temple here is the Lad Khan temple that dates back to the 5th century. But the most impressive temple is Sri Durga Temple Aihole. It is noted for its semicircular apsis, detailed sculptured art on the elevated plinth and the sculptured corridor that circumscribe the inner sanctum.
The interior is done with the most intricate designs in Dravidian art, which takes ones breath away. Sri Durga Temple Aihole houses the Chamundi Devi trampling the Narasimha and a ferocious image of the Devi Durga killing the demon Mahisarur.