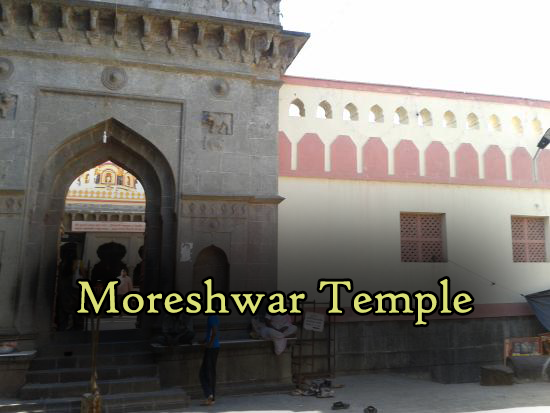 Moreshwar Temple the exact date of construction of the temple is unknown, though the Ganapatya saint Morya Gosavi is known to be associated with it. The temple flourished due to the patronage of the Peshwa rulers and descendants of Morya Gosavi. The temple is built with black-stone and has four gates. The temple has four minarets and a 50 feet tall wall around it.
Distance (From Pune Railway Station): 

65 Kms

Visited From: 

Jejuri (17 km)

Trip Duration (Including Travel): 

1-2 Hours

Place Location: 

At Moregaon

Transportation Options: 

Bus / Cab

Timings: 5 AM to 10 PM.

At a distance of 17 km from Jejuri and 65 km from Pune, Sri Moreshwar temple, also known as Sri Mayureshwar Temple, is a Hindu temple located at Moregaon in Pune district of Maharashtra. This temple is considered to be the first temple among the Ashta Vinayak temples of Lord Ganesha and also one of the popular places of pilgrimage in Pune.
Puja Schedule:
The temple is open to pilgrims from 5 a.m. to 10 p.m. Prakshalpuja – The first puja of the day at 5 a.m. comprising the water abhisheka and flower offerings.
Shodoshpchar Puja – It is conducted twice a day at 7 a.m. and at 12 noon. At both these this time the Ganpati Atharvashirsh is recited.
Panchopchar Puja – This is performed at 8 p.m.
The temple closes for the devotees after the Shejarti at 10 p.m.
Naivedya – The food is offered to the deity thrice a day:
In the morning Khichadi (made of Rice) is offered.
In the afternoon the whole meal with sweets is offered.
At night milk and rice is offered.
The presiding deity of this temple is Lord Mayureshwar (Lord Ganesha) also called as Lord Moreshwar, made of alloy of five metals, with his trunk towards left. Ganesha is depicted armed with a spear, while a cobra encircles his head. Lord Ganesha is flanked by his consorts Riddhi, and Goddess Siddhi. The other important deities of this temple are Lord Shiva, Goddess Parvati, Lord Vishnu, Lord Rama, Goddess Sita, Lord Vignesha, Chintamani, Lord Brahma, Nagna-Bhairava and Nandi. The entrance of the temple contains a 6 feet mouse, the vehicle of Lord Ganesha and the temple also houses the image of peacock. The assembly hall of this temple contains 23 idols of Lord Ganesha, each depicting different forms of Lord.