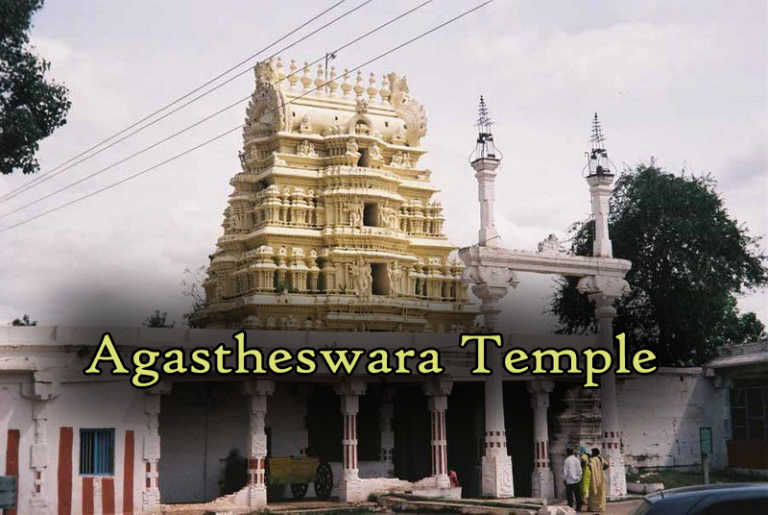 Agasteeshwara Temple is the shrine of Lord Shiva located on the banks of river Cauvery at Tirumakudalu Narasipura in the district of Mysore, Karnataka. As per the legends, the deity in the temple is said to have been installed by sage Agastya. Tirumakudalu Narasipura is the sacred sangama (convergence) of rivers Cauvery, Kabini and Spatika Sarovara (a mythical lake or spring, also named Gupta Gamini). A highlight of this temple is the water trickling down from the head of Lord Shiva
Distance (From Mysore): 
35 Kms
Trip Duration (Including Travel): 
2 Hours
Transportation Options: 
Cab / Bus
Travel Tips: Gunja Narasimha Swamy Temple is 2 kms from here and can be visited together.
Alternatively, coracles are available to cross the river and visit the temple.

At a distance of 35 Kms from Mysore, Agasteswara temple is a famous temple built at the confluence of two rivers – Cauvery & Kabini (Kapila).
According to scriptures Maharishi Agasthya went through the Dandakaranya. He reached this place and wanted to offer prayer to Lord Shiva. He ordered Hanuman to get a Shiva Lingam from Kashi for pooja. By the time Hanuman brought the Lingam, Agasthya made a Lingam out of sand and started to worship it. Lord Hanuman was annoyed and tried to destroy the lingam. The height of the lingam grew to about 60 feet.
The panchalingas of T.Narasipur include the lingas at Someshwara lingam, Markandeshwara lingam, the Gargeshwara Lingam at Gargeshwari village, along with the Agasthyeshwara and the Hanuman Lingam at T.Narasipura.
Kumbhamela is performed once in 3 years, only at this location in South India.