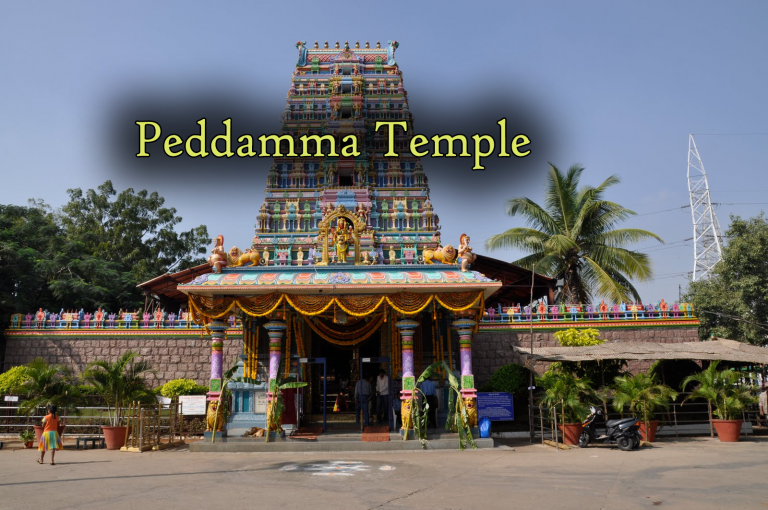 Peddamma temple is an Hindu temple located at Jubilee Hills in Hyderabad. It is very famous during the festive season of Bonaalu.
Distance (From Hyderabad – Nampally Railway Station): 

10 Kms

Visited From: 

Hyderabad – Nampally Railway Station

Trip Duration (Including Travel): 

2-3 Hours

Transportation Options: 

Cab / Auto / Bus

Peddamma Gudi Temple Timings:
– Weekdays – 6.00 AM to 1.00 PM and 3:00 PM to 8:00PM
– Sundays – 6:00AM to 8:30PM
Neary by Tourist Attractions:
– Shilparamam (Handicrafts village)
– Hi-Tech City
– KBR Park
Distance:
– 12.5 Kms from Secunderabad Railway Station (30-35 min drive)
– 14 Kms from MGBS Bus Stop, Hyderabad ( 50-60 min drive)
Public Transport:
– Buses from Secunderabad – 10H (direct bus), 5K-127P, 5T-127K
– Buses from MGBS Bus Stop, Hyderabad – 127K (direct bus)
Location of Peddamma Gudi: Located in Road No. 55, Jubilee Hills, Hyderabad
Food Facilities: There are many hotels and restuarants in Hyderabad with various cuisines.
Festivals at Peddamma temple
Peddamma Temple is also famous for various festivals during which devotees from various parts of the state visit to seek blessings. Bonalu Festival that is celebrated in the month of June-July is celebrated with great fervor and enthusiasm in this temple. During this festival, women carry earthen pot covered with neem leaves along with turmeric and kumkum, containing items such as rice, jaggery, milk and curd. These earthen pots are carried as an offering to the Goddess. Rathotsavam that is organized on Ratha Saptami is another major festival of Peddamma Gudi Temple.
According to another legend, a demon named Mahishasur who was the son of demon king Rambha and water buffalo, had dethroned Indra, the king of Heavens. He had the blessings of Lord Brahma that neither man nor can God kill him, owing to which he had became increasingly vindictive. To end his cruelties, upon the request of other Gods and blessings of the holy Trinity- Lord Brahma, Lord Vishnu and Lord Shiva, Goddess Durga came into being. Goddess with great might along with the powers from Trinity and other Gods, killed demon Mahishasura in a fierce battle.
Another major festival celebrated in Peddamma Gudi temple is Rathotsavam on the auspicious occasion of Ratha Sapthami. Rath literally means chariot and thus in this 3 day annual festival, the deity is decorated with beautiful flowers and ornaments and the well-lit, beautiful chariot is taken around the temple complex, for the devotees to see. It is said that the wishes of the devotees who worship Goddess Peddamma come true, and thus devotees come in flocks, every year from all over the world.
There are special prayers on every Thursday which begin with "Abhishekam" at 3:00 am and are followed by a series of other prayers viz. Navagraha Homam,' `Rudra,' `Chandi Homam,' `Dikpala Bhairava Baliharanam,' `Purnahuti' and `Annadanam'.