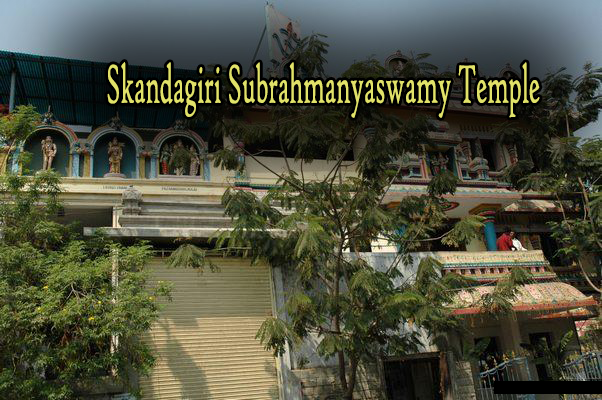 Skandagiri Subrahmanyaswamy Temple is also called among the devotees as Skandagiri Murugan Temple is situated in Skandagiri hill, Padmarao Nagar area, Secunderabad in the state of Telengana.
The temple is located very near to the Sardar Patel College and is just 3 kms away from Secunderabad railway station.
Distance from key location:
Imliban Bus Stand-
6.2 km
Jubilee Bus Stand-
2.2 km
Secunderabad Station-
0.6 km
Panjagutta X Roads-
5.4 km
Kukatpally HB-
13.5 km
Begumpet Airport-
4.4 km
Trimulgherry RTA-
4.2 km
Madhapur (Cyber Towers)-
12.8 km
Dilsukhnagar-
6.9 km
Address:
Skandagiri,
Kamakotinagar,
Padmarao Nagar,
Secunderabad,Telangana, Pin:500061.
Temple Timings:
SUNDAYS

&

FRIDAYS

MORNING
06:00 A.M.
TO
12:00 NOON
EVENING
04:30 P.M.
TO
09:00 P.M.
MONDAYS,

WEDNESDAYS, THURSDAYS

&

SATURDAYS

MORNING
06:00 A.M.
TO
11:00 A.M.
EVENING
04:30 P.M
TO
09:00 P.M.
TUESDAYS
MORNING
06:00 A.M.
TO
12:00 NOON
EVENING
03:00 P.M.
TO
09:00 P.M.
The temple timings are extended on all festival days. During Dhanur masam the temple opens at 04:30 A.M. The timings are subject to changes on the days of solar / lunar eclipses and also under certain unavoidable circumstances.
Festivals Celebrated at Skandagiri Temple:
Many festivals are celebrated with great fervor at Skandagiri temple and some of the most important ones include: Aadi Krithigai, Sri Subbaraya Sashti or Sri Subrahmanya Shashti, Maha Shivaratri, Aarudra Dharshanam, Panguni Uthiram, Thai Poosam and Skanda Shashti.
Arjitha Sevas Performed at Skandagiri Temple:
Homam: 7:30 A.M.
Homam – on Sankatahara Chaturthi to Sri Sundara Vinayagar: 5:30 P.M.
Mahanyasam: 7:30 A.M.
Abhishekam: Morning 8:30 A.M. Evening 5:30 P.M.
Abhishekam – on Pradhosham to Sri Ekambareswarar: 4:30 P.M.
Kavadi/Palkudam offerings – on selected festival days only: 8:30 A.M.
Chandi Homam – Parayanam – on the previous day 5:00 P.M.
Homam – Morning 8:30 A.M.
Nakshatra Archana: 6:00 P.M.
Temple premesis includes:
Sri Sundara Vinayagar Sannidhi
Sri Ekambareswarar and Sri Kamakshi Amman Sannidhi
Sri Jaya Durga Sannidhi
Sri Varadaraja Swamy Sannidhi
Sri Dakshinamoorthy
Sri Lakshmi and Sri Saraswathi
Sri Sivakamasundari Sameda Sri Nataraja Sannidhi
Sri Shanmugar Sannidhi
Sri Navagraha Sannidhi
Skandagiri Subrahmanyaswamy Temple located in Padmarao Nagar area has got a very good reputation for poojas and rituals. Skandagiri temple is known for its peaceful spiritual atmosphere and devotees can experience a positive energy flowing in them once they get into the temple.
The Temple celebrates many important festivals throughout the year attracting devotees in large numbers. Special mention is to be made of festivals like Sri Vinayaka Chaturthi, Sankatahara Chaturti for Sri Sundara Vinayagar, Aadi Krithigai, Subramanya Sashti, Mahaskanda Sashti, Thai Poosam. Panguni Uttiram, and other festivals for Sri Subrahmanyaswamy and Pradhosha Poojas, Mahasivarathri, Maharudrams performed during the Kartika months for Lord Ekambareswarar, Vasantha Navarathri and Sharadha Navarathri festivals for Sri Jaya Durga & Sri Kamakshi Amman.
This temple is a tribute to the public spirit of devotion and continued patronage. The devotees swell in number day-by-day and that speaks immensely of the Divine Grace of the Supreme Almighty enshrined on this hillock.