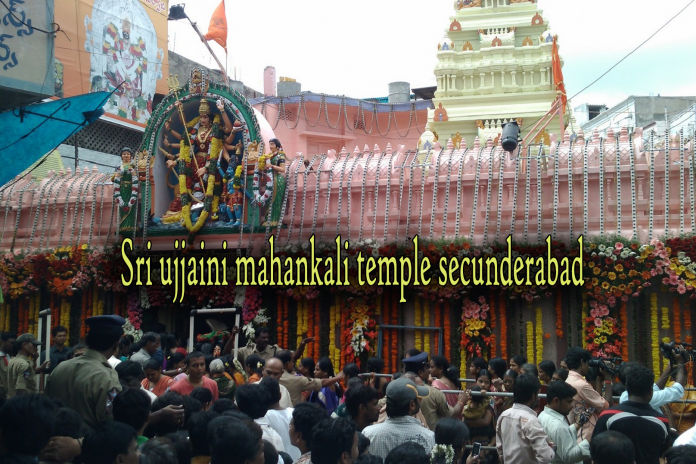 Sri Ujjaini Mahakaali Temple is a popular temple devoted to Godess Mahakaali in Secunderabad area of Telangana. Devotees offer their prayers to the goddess every day at this 190-year old temple.
Distance:
– 1.5 Kms from Secunderabad Railway Station (10-15 min drive by car)
– 10 Kms from MGBS Bus Stop, Hyderabad ( 40-45 min drive by car)
Public Transport to Ujjaini Mahankali Temple:
– Buses from Secunderabad – 10H, 49A, 49M, 40
– Buses from MGBS Bus Stop, Hyderabad – 7Z, 8A, 45K, 45F
Location : General Bazar, Kalasiguda, Secunderabad
Best Time to visit: During Bonalu Jathara in Ashada Masam of Hindu Calender.
Neary by Tourist Attractions:
– General Bazar shopping
– Ganesh Temple near Secunderabad Railway Station
Ujjaini Mahankali Temple Timings:
– On all days : Open from 6:00 am to 12 pm, 4:00 pm – 9:00 pm
– On Bonalu Jathara day: Darshanam starts from 4:00am in the morning
Address: Sri Ujjaini Mahakali Temple, General Bazar, Secunderabad – 500003
There are several oldest temples in Andhra Pradesh in which exist famous goddess temples like "Kanakadurga" at Vijayawada , "Bhadrakali" at Warrangal etc. "Sri Ujjaini Mahakali" temple in Telangana region at Secunderabad which is 191 years old. It is visited and prayers offered to the goddess by unending large number of devotees everyday in general and in particularly thousands of devotees in Ashada jathara on principal days which falls on Sunday and Monday. There is no doubt about granting the wishes of devotees by the goddess and devotees fulfilling the vows.
The goddess Ujjain Mahakali sits in a Padmasana posture with four hands with sword, spear, damaru, vessel of amrut, is a beautiful stone idol. It is said by some people that this idol was brought from Ujjain. This idol is covered and fixed with vendi kavacham(silver shield). By the side of Sri Ujjain Mahakali is the goddess of "Manikyaladevi".
Various festivals are celebrated in the this temple viz, Bonalu Panduga, Ghatothsayam, Kolupu Pothraju Bali, Rangam and Saganamputa. During Bonalu Pandagu, women carry Bonam (a pot with jiggery, rice, milk and curd which is covered with neem leaves and with a diya placed on it.) over their heads and walk towards the temple at dawn.
Bonalu Festival (or Bonalu Jathara) celebrated in Ujjaini Mahankali Temple Secunderabad is also called as Lashkar Bonalu. More than 2 Lakh devotees attend visit this temple on the Bonalu Festival performed in this temple. Potharaju dance at Secunderabad Bonalu Jathara (Lashkar BOnalu) is very famous and being observed by many including all the media channels.
The first Sunday of the month of Ashada, marks the beginning of Ghatothsavam. It is a fifteen day festival in which a ghatam, decorated with flowers goes to every house along with a procession. At the end of the fifteenth day, Kolupu Pothraju Bali is celebrated in which the head of a buffalo is cut in one stroke. But, this practice of animal sacrifice has been prohibited for the last 25 years.
One of the most interesting festivals celebrated is Rangam in which an unmarried woman, standing on a pot prays to the Goddess and is supposedly responded to by the mother Goddess who proclaims the good events which will take place in her life.
Bonalu Jathara at Ujjaini Mahankali Temple is a perfect place of Telangana Culture being followed in its own unique way.A visit to the Ujjaini temple makes for a Telangana cultural and spiritual experience.