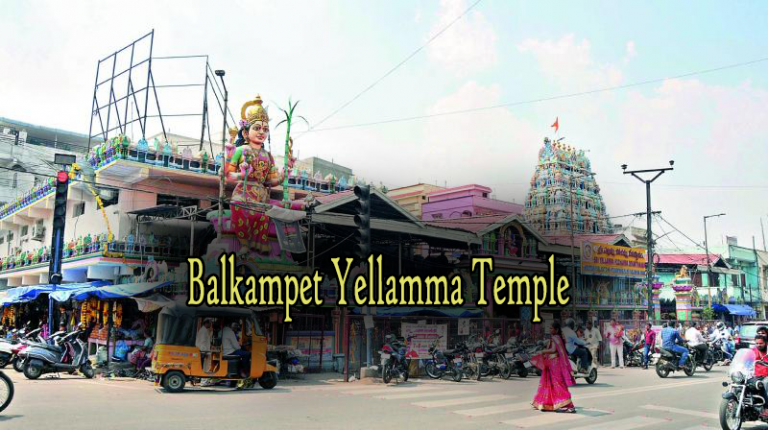 Balkampet Yellamma temple stands among famous temples of Hyderabad and Telangana. Located in one of the developed suburbs of the city, Balkampet, the Temple attracts huge number of devotees on Sundays and Tuesdays in particular. It is also very famous for the Bonalu Jathara celebrations that take place here. Bonalu is the most popular festival in Hyderabad and in Telangana.
Distance:
– approximately 10 Kms from Secunderabad Railway Station (usually takes 40-45 min drive)
– 12.5 Kms from MGBS Bus Stop, Hyderabad (usually takes 60-70 min drive)
Timings:
The temple will be opened 6.00 AM to 1.00 PM and 3:00 PM to 8:00PM
In the Morning times arati and pooja starts from 6:00 AM onwards; there after daily astothram and archana to be performed to godesses inside the temple area.
Address:
Balkampet Yellamma Temple,
Balkampet,Hyderabad, Pincode is 500018
Balkampet Yellamma Temple Pooja Timings
| Days | Temple Pooja Session | Temple Pooja Timings |
| --- | --- | --- |
| Daily | Temple Opening Time | 06:00 AM |
| Daily | Morning Pooja Timings | 06:00 AM to 13:00 PM |
| Daily | Temple Break Timings | 13:00 to 15:00 |
| Daily | Evening Pooja Timings | 15:00 to 20:00 |
| Daily | Temple Closing Time | 20:00 |
Note:1) The Balkampet Yellamma Temple Pooja Timings might change during festivals, occasional and special days.
Festive Season:
Balkampet Yellamma Goddess is also considered as an incarnation of the goddess Kali. This explains the great Bonalu celebrations at the Balkampet Yellamma Temple. Devotees offer animal sacrifices in the form of goat and hen. But the most important festival that the famous temple is the wedding ceremony of the goddess of the temple – Yellamma Kalyanotsavam.
The Bonalu Jathara festival will be organised at Balkampet Yellamma Temple starts after finishing Golconda Bonalu Jathara and Ujjaini Mahankali Bonalu Jathara.
The Balkampet Yellamma Temple History dates back to 15th century and it is considred as one of the ancient temples of Hyderabad and telangana. The temple has undergone lot of renovation during the course of time. The prtesent form of temple is renovated in early 20th century.
The idol of the goddess, interestingly, is 10 feet deeper than the ground level. There is also a well in the Balkampet Yellamma temple complex and some devotees believe that the water in the well heals all ills. Therefore, a bath here is supposed to purify you of all disorders and skin diseases. This holy water is called 'Theertham'. An Akhand Jyoth is also present in the temple that was lit during the renovation. Also included in the temple complex are shrines dedicated to various other gods such as SriPochamma,Rajarajeshwari, Nagadevta, Ganesha. It is planned to build a complex for pilgrims who visit the Bonalu celebrations in this temple of Hyderabad.