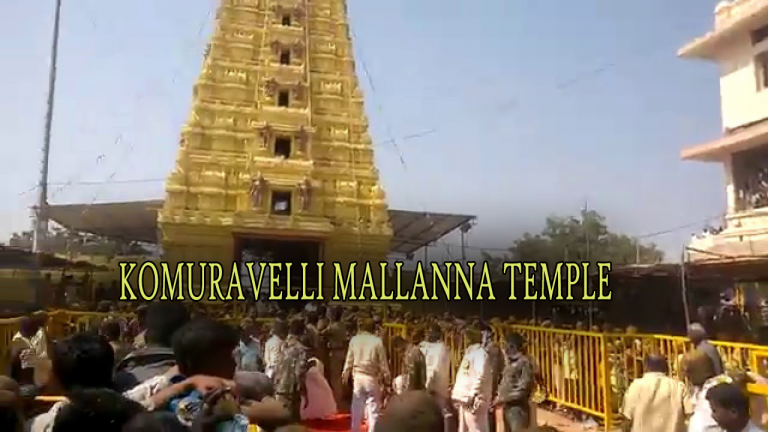 Komuravelli Mallikarjuna Swamy Temple popularly known as Komuravelli Mallanna Temple is a Hindu temple located on a hill in Komuravelli village of Siddipet district in Telangana state. It is located near Siddipet on SH–1 Rajiv Rahadari. The primary deity is Mallanna or Mallikarjuna Swamy who is an incarnation of Lord Shiva. The deity is also called as Khandoba by the Maharashtrian people. The temple is located about 85 kilometers from Hyderabad.
It takes 1 hours, 45 minutes to travel from Hyderabad to Komuravelli Mallanna Temple. Approximate driving distance between Hyderabad and Komuravelli Mallanna Temple is 88 kms or 54.7 miles or 47.5 nautical miles. Travel time refers to the time taken if the distance is covered by a car.
Komuravelli Mallanna Timings
Morning Hours: 4:30 am – 12:00 pm
Evening Hours: 3:00 pm – 8:30 pm
Darshan Timings: 6:00 am – 12:00 pm and 3:00 pm – 7:00 pm
Dress code:
Men: White Pancha, Dhoti with Upper cloth.
Female: Saree with blouse/ Punjabi Dress with Dupatta / Chudidhar with Dupatta/ Half saree.
Komuravelli Temple Timings, Darshan, Pooja, Abhishekam
Timings Pooja name:
4:00 am – 4:30 am Oggu Prarthana
4:30 pm – 5:00 am Suprabhata Seva
5:00 am – 6:00 am Theerthe Binde. Rudrabhishekam
6:00 am – 12:00 pm Darshan
12:00 pm Maha Nivedana.(Temple remains closed)
3:00 pm -7:00 pm Darshan
7:00 pm Oggu Prarthana
7:15 pm Theerthe Binde. Rudrabhishekam
8:00 pm Nivedana
8:30 pm Temple closing hours
As per the Legend, Mallanna is the incarnation of Lord Siva. Some used to say that Mallanna is Son of Lord and Younger brother to Ellamma. Poojas performed at this temple will be done in Telugu ie All Mantras will be chanted in Telugu, no Sanskrit usage during the Pooja. Temple priest is from Balija Community who runs through the temple activities.
Komaranna from Yadava community did penance here on this hill for Lord Siva, who later installed the Idol. It is believed that Lord Siva in Malegaon Maharashtra self-manifested here as Mallanna.
The main deity resides here with His consorts Golla Kethamma and Balijamedala Devi. The main deity is 8 ft inheight and is made of clay.Temple will be thronged with devotees during Brahmotsavam days which starts on Makara Sankranti.
Sivaratri festival will be celebrated in a grand. The deity will be colored once in a year. The main deity wasseated on Tripurasura images.