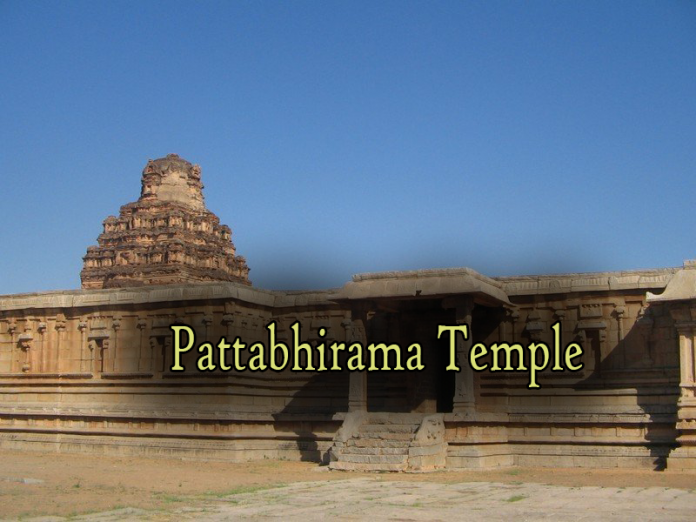 The Pattabhirama Temple is a major pilgrimage center in the ruined city of Hampi. Along with the Virupaksha and Vitthala temples, the Pattabhirama temple embodies the prolific temple-building ventures of the Vijayanagara rulers.
This presiding deity of the Pattabhi Rama temple is Lord Rama. Known for its splendid architecture, the temple complex is confined within a large rectangular enclosure. The sanctum sanctorum with its axial mantapas is situated in the centre of the courtyard. A pillared colonnade runs along the inside of the wall round the courtyard.
Distance (From Hampi): 
5 Kms
Visited From: 
ASI Museum (1 km)
Trip Duration (Including Travel): 
30 Mins
Place Location: 
Near ASI Museum In Kamalapura
Transportation Options: 
Cab / Auto / Rental Bike
Timings: 6 AM – 6 PM
At a distance of 1.2 km from Kamalapura Bus Stand and 5 km from Hampi, Pattabhirama Temple is situated near ASI museum in Kamalapura. Along with the Virupaksha and Vittala temples, the Pattabhirama temple represents the creative temple-building ventures of the Vijayanagara rulers.
Though it contains two inscriptions of King Achyuta Raya, the temple is believed to have been constructed well ahead of his regime. Dedicated to Lord Rama, this temple is known for its intricate architecture. It was a prominent destination for devotees during the period of the Vijayanagara Empire.
The Pattabhirama Temple is situated in the center of a huge rectangular enclosure. The east-facing sanctum has a three tier vimana with an antarala, maha-mandapa and ardha-mandapa. The large and square maha-mandapa is a finely built structure with tall and slender composite pillars of various types and is the best example of Vijayanagara style architecture. To the east of the ardha-mandapa is the usual covered pradakshinapatha enclosing the garbha-griha and the antarala.
Apart from the principle shrine located at the center of the campus, a shrine dedicated to the goddess is located within the temple compound. The east-facing Amman shrine has a two tier vimana. The marriage hall is situated at the southeast of the compound. The pillars are carved with Yali images. The whole temple campus was paved with granite slabs. Currently there is no idol inside the main temple.
There are four towers in four directions of the temple – east, west, north and south gate. The main tower in east is built with brick super structure and granite lower portions. There are some terracotta images visible. There is also a crescent boar-dragger emblem of the Vijayanagara kings near the archway of the tower. The tall 5 storied east gopura is in ruined state. The entire temple area is fortified by strong walls.