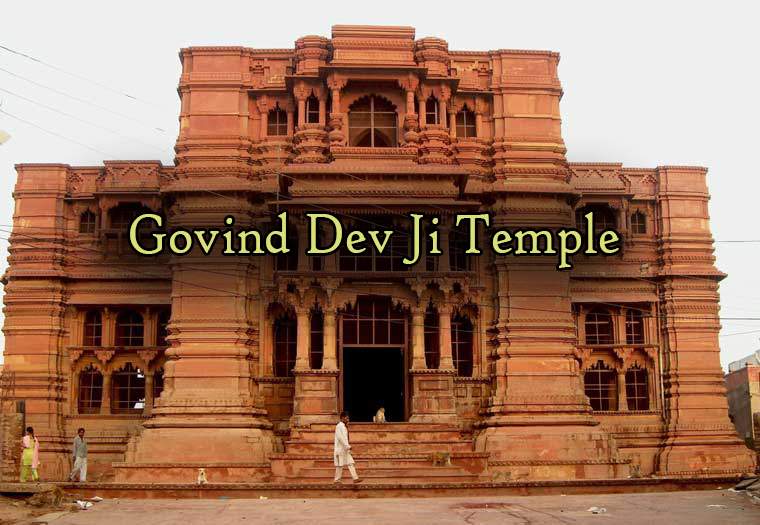 The Govind Dev Temple was built by Raja Man Singh, the ruler of Amber, Rajasthan in 1590 at a cost of ten million rupees. It is an astonishingly beautiful seven storey temple dedicated to Govind Dev, another name for Lord Krishna. The temple was partially destroyed by Mughal ruler Aurangzeb in 1670, and now only a three storied structure remains.
Distance (From Vrindavan Railway Station): 

1 Kms

Visited From: 

Vrindavan Railway Station

Trip Duration (Including Travel): 

1-2 Hours

Transportation Options: 

Cab / Auto

Timings: 8 AM – 12.30 PM and 4.30 PM – 8 PM
At a distance of 1 km from Vrindavan Railway Station, Govind Deo, which is also known as Govind Dev Temple, is one of the most important holy places in Vrindavan.
Aarti Timings:
Mangal Aarti 4:30 am to 5:00 am
Dhoop Aarti 7:30 am to 8:45 am
Shringar Aarti 9:30 am to 10:15 am
Rajbhog 11:00 am to 11:30 am
Gwal Aarti 5:45 pm to 6:15 pm
Sandhya Aarti 6:45 to 20:00 pm
Shayan Aarti 9:00 pm to 9:30 pm
Festivals:
Shree Krishna Janmashtami
Opening timings for 

govind devji temple
All days of the week
4:30 AM – 11:30 AM
5:45 PM – 9:30 PM
Entrance Fee : No Entry Fee
Best Time to Visit:
The best season to visit this wonderful city is during the winter months, from October to March. The maximum temperature is around 20-22 degrees, when the intensity of the scorching sun is at its lowest. The nights are cooler, with the temperature dropping to about 5 degrees, while the days are extremely pleasant, and you can enjoy every bit of the city's heritage beauty and take back a memorable experience.
Festivals celebrated at the Govind Dev Ji Temple:
There are many festivals celebrated at the Govind Dev – Ji Temple but Janamashtami and Holi are the major festivals. Janamashtami is celebrated as the birth of Lord Shree Krishna and it is celebrated on Bhadrapad month  which is a month of Hindu Calendar or you can say August.
Then an anther festival is celebrated just before Holi which is simply amazing. For the devotees of Lord Shree Krishna, after Vrindavan, the Govind Dev – Ji temple has high regards and hence devotees from different nations came here to worship Lord Shree Krishna.
The architecture of the temple is different from those of conventional temples. This temple reflects the architectural elements of Western, Hindu and Muslim style. The temple was designed in the form of Greek cross and was made using red sandstone. The temple has an imposing facade, looking like a European cathedral because of the pillars and colonnades. It is built on a raised platform and one has to climb a flight of stairs to reach the main hall. The temple has an impressive sanctum of marble and silver.
The ceiling of the main hall is decorated with a sculptured lotus which weighs several tons. The temple is decorated with flowers during Janmashtami and Holi. It is said that the Emperor Akbar donated some of the red sandstone that had been brought for the Red Fort at Agra, for the construction of this temple. It is currently in a state of considerable decay, with the main puja related activities having shifted to a smaller temple behind the main structure.