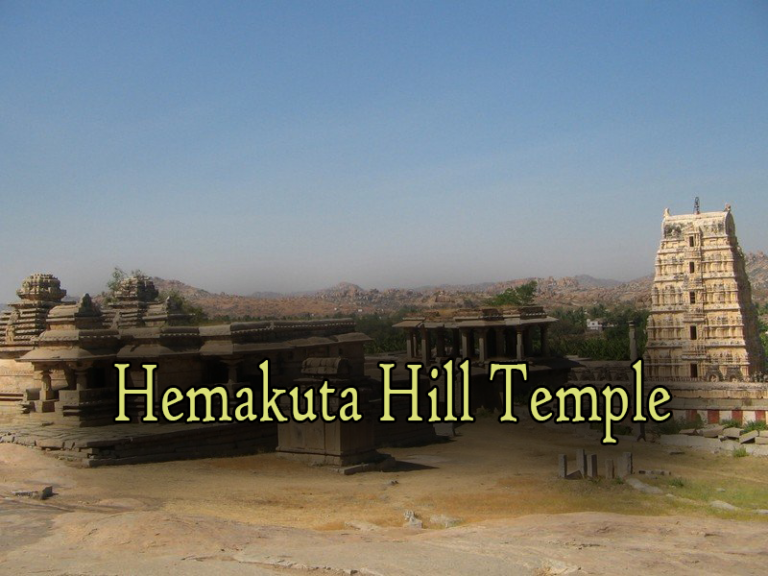 Hemakuta Hill is one among the best places in Hampi to see the sunrise and sunset; and not as tedious to reach the top say compared to the Matanga Hill nearby, which is boasted as the best location to watch sunset in Hampi. So if you find it difficult to make it to Matanga Hill for sunset view, try from Hemakuta Hill.
Distance (From Hampi Bus Station): 
0.6 Kms
Visited From: 
Hampi Bus Station
Trip Duration (Including Travel): 
1 Hour
Place Location: 
Adjacent To Virupaksha Temple
Transportation Options: 
Walk/Trek
Timings: 6 AM to 6 PM
At a distance of 600 m from Hampi Bus Stand, The Hemakuta group of temples is a cluster of ancient temples situated on the Hemakuta hill in Hampi adjacent to Virupaksha Temple.
Hemakuta, literally meaning golden hillock is one of the most charming hillocks in Hampi. It is dotted by over fifty structures of different types including temples, mandapas, galleries and gateways of various sizes. Hemakuta Hill offers excellent view of Hampi Bazaar and Virupaksha temple.
The Hemakuta hill has three entry points, one on the south-eastern side, one on the south and the other on the eastern side of the hill which leads to the street near the Virupaksha temple. There are more than 35 temples on Hemakuta Hill. These temples are built in pre-Vijayanagara and Vijayanagara periods (9th to 14th century AD). These are referred as Jain Temples, but many of these temples are dedicated to Lord Shiva.
Two of the temples have inscriptions noting their origin. The trikuta Shiva temples on the east has an inscription recording that Vira Kampiladeva, son of Mummadi Singeya Nayaka, built the Sivalaya and installed in it three Lingas. Two inscriptions on the rock near the Prasanna Anjaneya temple dated 1398 AD mention that Virupaksha Panditha and his brother constructed a temple of Virupaksha and dug a tank. Another inscription on a rock base records the setting of a lamp pillar in the temple of Jadeya Sankaradeva by Bukkave, the queen of Harihara II in the year 1397 AD.
According to legend, Lord Shiva did penance on the Hemakuta Hill before he married Parvati. This was also the place where Lord Shiva burnt Manmadha, the God of lust. Sri Gayathri Peetha Maha Samsthana is also located on this hill.
The architecture of the temples on the Hemakuta Hill is quite different from the typical Vijayanagara style of architecture. The Hemakuta temples are compact triple chambered structures with pyramid like roofs made from granite. Some of the temples located on the northern side of the hill are built in the Trikutachala style of architecture where three shrines are placed in perpendicular position to each other face a common central hall.