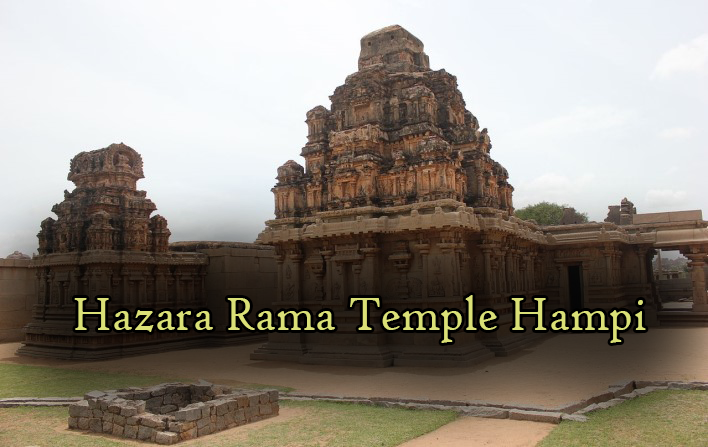 Hazara Rama Temple in Hampi is an important shrine in Hampi. This small but beautiful temple is located at the center of the royal area. The temple is dedicated to Lord Rama, a hindu deity. It was once the private temple of the kings and the royal family of Vijayanagara. The temple is famous for the lovely bas relics and panels depicting the story of the epic Ramayana.
Distance (From Hampi Bus Station): 
3 Kms
Visited From: 
Royal Enclosure
Trip Duration (Including Travel): 
30 Mins
Place Location: 
Inside Royal Enclosure
Transportation Options: 
Walk/Trek
Timings: 6 AM to 6 PM
At a distance of 3 km from Hampi Bus Stand, Hazara Rama Temple is a beautiful temple located at the center of Royal Enclosure. The temple is dedicated to Lord Rama.
Hazara Rama Temple was built in the early part of the 15th century by Devaraya II. The term Hazara Rama literally means a thousand Rama and refers to the large number of Ramayana panels depicted on the walls. This temple is believed to be the private temple of the kings and the royal family of Vijayanagara..
It was originally built as a simple structure within a rectangular complex. It consisted of only a sanctum, a pillared hall and an ardha-mandapa. Later the temple structure was renovated to add an open porch and beautiful pillars. The pillared hall has unique black stone pillars which are raised on a stone platform at the center of the hall. The interior of the temple has richly ornately columns. An empty pedestal with three holes signifies that the temple once had idols of Rama, Lakshmana and Sita.
Hazara Rama Temple is the only temple in Hampi which has a well carved compound wall. High compound walls enclose the entire complex of the temple with the main entrance located at the east. To the south of the temple there are small doorways which lead to the durbar area. The exterior walls have been decorated with bas- relief which narrate the entire story of Ramayana. This depicts the episodes of birth of Rama, marriage, his exile into the forest, the abduction of Sita and the ultimate fight between Rama and Ravana. The outer wall of the temple includes the sculptures of some animals like horses, elephants, camels as well.
The temple has a sprawling lawn on its northern side. This leads to the Pan Supari Street further down. Zenana Enclosure and Lotus Mahal can be reached from this temple.