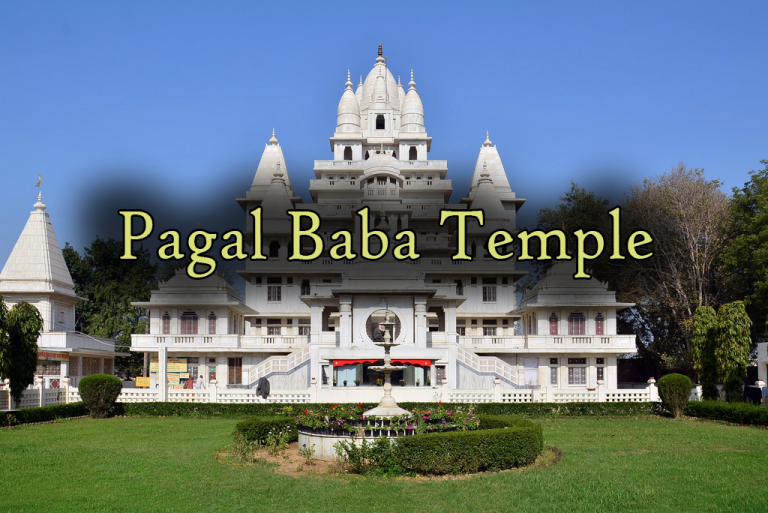 Pagal Baba Temple is an important piece of modern architecture. This is an eleven storied temple built with white marble. It presents a beautiful view of the city of Vrindavan from its topmost floor. The temple is famous for its puppet exhibition in the ground floor. The puppets play scenes from the great Epics, Mahabharata and Ramayana. The temple is decorated by the followers of Pagal Baba during Holi and Janmashthami.
Distance (From Vrindavan Railway Station): 

3 Kms

Visited From: 

Vrindavan Railway Station

Trip Duration (Including Travel): 

1 Hour

Transportation Options: 

Cab / Auto

Timings: 5 AM – 12 PM and 4 PM – 9 PM

At a distance of 3 km from Vrindavan Railway Station, Pagal Baba Temple is a beautiful and magnificent structure located on Mathura – Vrindavan road. This is one of the prime temples in Vrindavan.

Pagal Baba Temple Vrindavan Darshan Timings:

Summer
Morning
Timings
Evening
Timings
Darshan
5:00 am to 11:30 am
Darshan
3:00 pm to 9:00 pm
Winter
Morning
Timings
Evening
Timings
Darshan
6:00 am to 12:00 pm
Darshan
3:30 pm to 8:30 pm

Built by a saint named Pagal Baba (Sri Sheela Nand Ji Maharaj), this temple is devotedto Lord Krishna. According to legends, Sheela Nand Ji was a Judge in High court of Calcutta and after resigning he came to Vrindavan in search of spirituality. He was wondering here and there like a mad man so people were saying him Pagal Baba. Then after with help of devotes, he built this beautiful temple in Vrindavan.