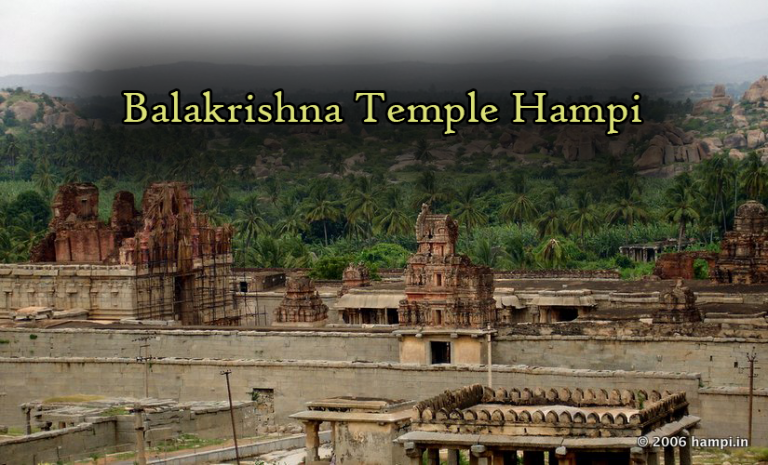 Balakrishna Temple Hampi is situated on the way to Virupaksha temple from Kamalapur, facing East, dedicated to Vaishnava in the form of Balakrishna.This temple was built by the King Sri Krishna deva raya during 1514 A.D to commemorating the conquest of Udayagiri in Orissa.
Distance (From Hampi Bus Station): 
0.5 Kms
Visited From: 
Hampi Bus Station
Trip Duration (Including Travel): 
1 Hour
Place Location: 
On Main Road Towards Royal Enclosure
Transportation Options: 
Cab / Auto / Rental Bike / Walk/Trek
Timings: 6 AM – 6 PM
At a distance of 500 m from Hampi Bus Stand, Sri Krishna temple is situated on the Hampi main road. Krishna temple is one of the important temples in Hampi and also among the Group of Monuments which is currently listed as a part of the World Heritage Monuments by the UNESCO.
According to the history, Bala Krishna Temple was built by Krishnadevaraya of Vijayanagara Empire in 1513 AD. He built this temple to commemorate his victory over Prataparudra Gajapati, the ruler of the eastern kingdom of Udayagiri (now Orissa) which is mentioned in the inscriptions on the slab. The main idol installed in the temple was the figure of Bala Krishna and now it is preserved in the State Museum at Chennai.
This temple was built in Panchayathana style with two enclosures. Built in the center of complex, the main shrine has a sanctum, maha-mandapa, ardha-mandapa, a pillared pavilion, a Devi shrine and many sub shrines. The main sanctum is plundered by invading Muslim forces of Deccan Sultanates. The temple kitchen is located at the south east of the main shrine. The carvings of the temple are spectacular with the Yalis on the pillars and the entrances to the temple hall engraved with impressive carvings of elephant riders.
The main tower at the east is an outstanding example of Vijayanagara architecture. The tower is adorned with numerous carvings. Only a part of the superstructure of the east gopura exists, but it still exhibits fine stucco figures of warriors with shields, spirited horses and elephants. The sides of the entrance exhibit beautifully sculptured Apsaras standing on mythical animals and holding scrolls filled with panels showing different incarnations of Lord Vishnu. This is one of the few temples where the epic stories carved on the walls of the tower.
The open area with pillared corridors on eastern side of temple is known as Krishna Bazaar. There is a beautiful temple tank called Kalyani with nice structures around.