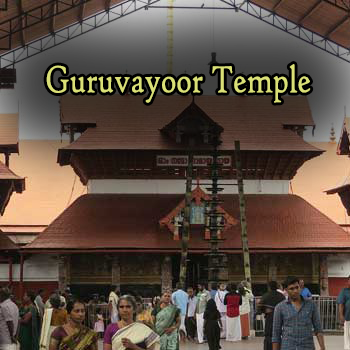 Lord Sri Krishna can be seen in standing posture with four hands carrying Sankhu, Sudarshana Chakram, Lotus and Mace. A 33 meter tall gold-plated Dwajastambham is a special attraction. There is a 7 meter high 'Deepastambham' with thirteen circular containers, provides a wonderful site when lit.
Distance (From Thrissur): 

27 Kms

Visited From: 

Thrissur

Trip Duration (Including Travel): 

2-3 Hours

Transportation Optio

ns: 

Bus / Cab

Travel Tips: 

Following places can be visited along with Guruvayoor – Harikanyaka Temple – Ariyannur (5 Kms), Punnathur Kotta (3 Kms), Chavakkad Beach (4 Kms) & St. Thomas Forane Church – Palayoor (4 Kms)

Only Hindus are allowed into temple. Guruvayoor Ekadasi is the main festival celebrated in Mar / Apr.
At a distance of 27 Kms from Thrissur & 81 km from Kochi, Guruvayoor is well known for the most famous Sri Krishna Temple in South India. This is one of the most popular pilgrimage sites in Kerala & an ideal getaway from kochi.
THE DAILY POOJAS IN THE TEMPLE
THE TEMPLE OPENS AT 3.00 AM:

3.00am to 3.30am    Nirmalyam
3.20am to 3.30am
Oilabhishekam, Vakacharthu, Sankhabhishekam
3.30am to 4.15am    Malar Nivedyam, Alankaram
4.15am to 4.30am    Usha Nivedyam
4.30am to 6.15am    Ethirettu pooja followed by Usha pooja
7.15am to 9.00am    Seeveli,Palabhishekam,Navakabhishekam, Pantheeradi Nivedyam, and Pooja
11.30am to 12.30pm    Ucha pooja (the noon pooja)
TEMPLE WILL BE CLOSED BETWEEN 1.30PM AND 4.30PM AND REOPENS AT 4.30 PM:

4.30pm to 5.00pm    Seeveli
6.00pm to 6.45pm    Deeparadhana
7.30pm to 7.45pm    Athazha pooja Nivedyam
7.45pm to 8.15pm    Athazha pooja
8.45pm to 9.00pm    Athazha seeveli
9.00pm to 9.15pm    Thrippuka, Olavayana
Guruvayur Temple Dress Code:
Men: White Dhoti and Upper Cloth
Women: Saree, Half saree
Precautions: Banyan, T-shirt, Lungi, chequered clothes, pyjama will not be allowed. Items can be safely
deposited at the temple entrance.
The walls of the sanctum sanctorum are adorned with beautiful mural paintings and carvings. The temple is built in a typical Kerala temple architecture. Vishwakarma, the divine architect is said to have built the first temple here. On Malayalam New Year day, the first rays of Sun fall directly at the feet of Lord Krishna. The temple has a collection of 65 elephants, preserved at Anakotta, 3 Kms from the temple.