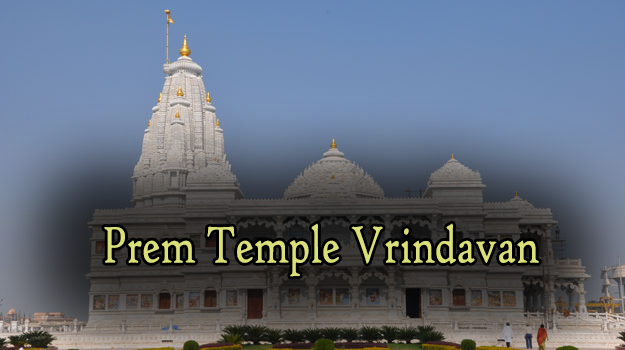 Prem Mandir is one of the latest temples in Vrindavan dedicated to Lord Sri Krishna. The temple structure was established by spiritual guru Kripalu Maharaj. The foundation stone laid on January 2001 and the temple was opened to public on 17th February 2012. The cost of the construction was around 150 crore rupees. The presiding deities are Sri Radha Govind and Sri Sita Ram.
Distance (From Vrindavan Railway Station): 

2.5 Kms

Visited From: 

Vrindavan Railway Station

Trip Duration (Including Travel): 

1-2 Hours

Transportation Options: 

Cab / Auto

Light Show Timings: 7.30 PM to 8 PM
Timings: 5.30 AM – 12 PM and 4.30 PM to 8.30 PM
Address:
Prem Mandir
Raman Reti, District Mathura,
Vrindavan,
Uttar Pradesh, India
At a distance of 2.5 km from Vrindavan Railway Station, Prem Mandir is a religious and spiritual complex situated on the outskirts of Vrindavan.
Prem Mandir – Shyama Shyam Dham Vrindavan Darshan & Aarti Timings:
Morning
Timings:
Darshan & Aarti:
5:00 am
Aarti & Parikrama
6:30 am
Bhog. Door Close
8:30 am
Darshan & Aarti
11:30 am
Bhog
12:00 pm
Shayan Aarti & Door Close
Evening:
4:30 pm
Aarti & Darshan
5:30 pm
Bhog
7:00 pm
Parikrama
8:10 pm
Shyan Aarti
8:30 pm
Door Close
Musical and Digital Fountain:
7:30 pm to 8:00 pm
Summer (1 April to 30 Sept)
7:00 pm to 7:30 pm
Winter (1 Oct to 31 March)
Prasad:
Peda (A sweet delicacy made out of milk and sugar) Rs 100/-
Entry Fee:
Entrance Free
Luggage Counter Rs 10/- per bag
Photography Allowed
Parking Fee Rs 50/-
Prem Mandir built on 54 acres land is a two storied structure. The main structure built in marble looks incredibly beautiful and reflects the true history of Sanatana Dharma. The sanctum has the beautiful deities of Radha – Krishna on the ground floor and Ram – Sita on the first floor. The inner temple walls are adorned with the fine images and paintings from the life of Guru Kripalu Maharaj. There are totally 80 panels on the walls depicting Radha Krishna Lila.
There is a beautiful garden around the temple premises with fountains. The spacious grounds house life size statues and paintings of Lord Krishna, Goddess Radha and other legendary characters associate with Krishna. Among the Lilas presented, the Govardhan Lila and Rasalila are featured prominently.
There is also a Musical fountain along with light show. People are mesmerized by the patterns which are brilliantly made by the colored lighting and water. This pattern follows the ragas and kirtans of Radha Krishna which is played at background.