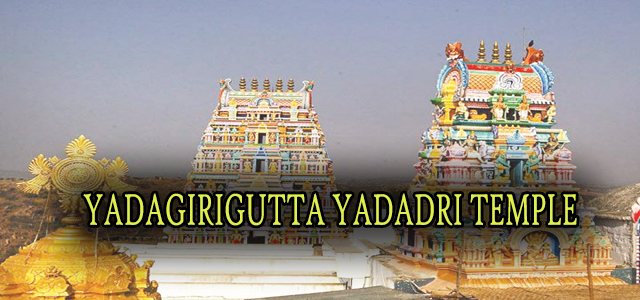 Yadagirigutta is situated about 60 kilometers from Hyderabad and this place is famous for Sri Lakshmi Narasimha Swamy temple also popularly known as Yadagirigutta temple. It is an ancient temple and pilgrims from all parts of India and abroad, visit this temple regularly. This Lord is very powerful and people can feel difference in their life, after worshiping Lord Lakshmi Narasimha.
Ideal Trip Duration: 

Full Day

Base Station: 

Yadagirigutta, Hyderabad (66 Kms)

Nearest City to Yadagirigutta: 

Hyderabad (66 Kms)

Best Time to Visit Yadagirigutta: 

October to March

Peak Season: 

October to March

State: 

Telangana

 

 

District: 

Nalgonda

Temple Timings: 4:30 AM to 9:30 PM.
The best time to visit Yadagiri Gutta is from October to March. The place witnesses a heavy rush during weekends, holidays and festivals.
Accomadation:Accommodation is available with several temple guest houses and private lodges.On Arrival booking can be done at Yogananda Nilayam, Opposite Bus station. There is no enquiry office in the hills, office located in the town itself.
Annual Brahmotsavams are held from Shudha Vidiya to Dwadasi for 11 days (in February & March months).
Yadagirigutta temple timings:
The temple opens by 4 AM in the morning with suprabhatam and this continues up to 4:30 AM.
From 4 -30 AM to 5 AM, binde theertham is performed.
Bala Bogam is performed between 5 to 5:30 AM.
From 5:30 AM to 6:30 AM Nijabishekam is performed.
Archanas are offered between 6:30AM and 7:15 AM.
From 7:15 AM to 11:30 AM, temple is open for darshan for all devotees.
From 11:30AM to 12:30 PMMaharaja Bogamu is performed.
Again, from 12:30 PM to 3 PM, darshan is available for devotees.
The temple is closed between 3 PM and 4 PM.
Special darshan is available from 4 PM to 5 PM for devotees.
Darshan for all devotees is available between 5 PM and 7 PM.
From 7:30PM to 8:15 PM, archanas are performed.
Darshan is again available for devotees from 8:15 PM to 9 PM.
Maha nivedana starts from 9 PM and after that, sayanothsavam is performed at 9:30 PM.
The temple closes by 9:45 PM at night.
At a distance of 66 km from Hyderabad, 85 km from Nalgonda & 91 km from Warangal, Yadagiri Gutta is a popular pilgrimage town in Nalgonda district in the state of Telangana situated close to Warangal highway. It is famous for Yadagirigutta Temple, abode of Narasimha Swamy, an incarnation of Lord Vishnu.
This cave temple is situated at an altitude of 300 feet on a large hillock. Yadagirigutta was earlier known as Vedagiri because it is believed that Lord Vishnu kept all the Vedas at this sacred place. This is one of the top Places to visit in Telangana and also one of the popular one day trip from Hyderabad. The official name of this place was recently changed to Yadadri by Telangana government.
Bus facility is easily available to reach this city and devotees should know about yadagirigutta temple timings in advance on order to have a smooth darshan.
This temple has five forms of Narasimha. According to the legend, Sri Yadava Maharishi son of Sri Rushyashrunga Maharishi had performed great penance for Lord Narasimha Swamy. Impressed with his penance, Lord Narasimha appeared before the sage and took five Avatars known as Jwala Narasimha, Yogananda Narasimha, Ugra Narasimha, Gandaberunda Narasimha and Lakshmi Narasimha. They later manifested themselves into finely sculpted forms that later came to be worshiped as Pancha Narasimha Kshetram.
In the sanctum of this hill temple Jwala Narasimha, Gandaberunda Narasimha (without an image) and Yoga Narasimha are held in worship, in addition to a silver image of Lakshmi Narasimha and a shrine to Aandaalamma. The top of innermost sanctum of the temple has a golden Sudarshana Chakra of Lord Vishnu. The adornment is about 3 feet by 3 feet in dimension and it is the symbol by which the temple is identified by from a distance. A legend about the chakra says that many years ago, it moved in the direction from which the devotees came, very much like a compass that guided them to the temple.
Surendrapuri, Lotus Temple and Bhongir Fort are the nearby attractions to this temple.
Hyderabad is the nearest airport, which is about 102 km from Yadagiri Gutta. It is well connected by both Rail and Road. The nearest Railway station is Raigiri (about 3 km) for passenger trains. The nearest major railway stations is at Bhongir (14 km) & Aler (14 km). There are number of buses from Hyderabad, Secunderabad and other parts of the state to Yadagiri Gutta.