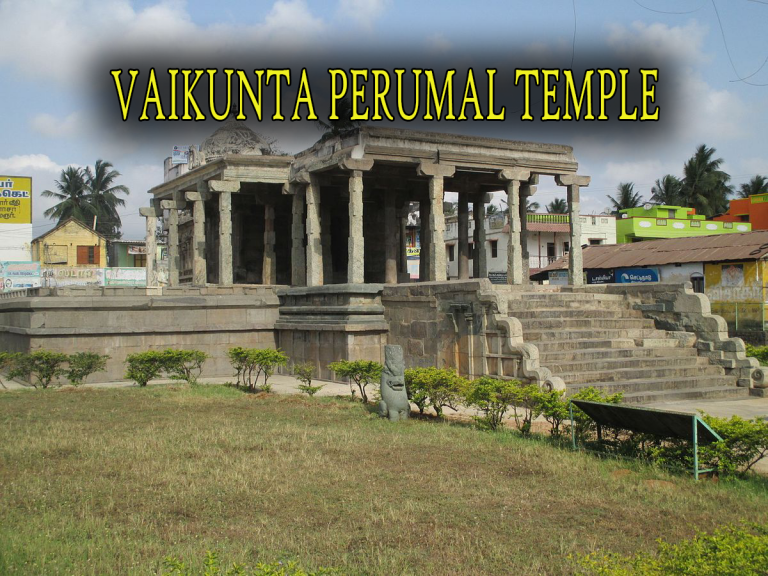 Vaikunta Perumal Temple or Thiru Parameswara Vinnagaram is a temple dedicated to the Hindu god Vishnu, located in Kanchipuram in the South Indian state of Tamil Nadu. It is one among the 108 Divyadesam dedicated to Vishnu, who is worshipped as Vaikuntanathan (Lord Paramapadanathan) and his consort Lakshmi as Vaikundavalli.
Distance (From Kanchipuram Central Bus Station): 
1 Kms
Visited From: 
Kanchipuram Central Bus Station
Trip Duration (Including Travel): 
1 Hour
Transportation Options: 
Cab / Auto / Walk/Trek
Timings: 6 AM – 12.30 PM & 4 – 8:30 PM
At a distance of 1 km from Kanchipuram Bus Station and 1 kms from Railway Station, Vaikuntha Perumal Temple, Kanchipuram is one of the most important temples dedicated to Lord Vishnu.
It was built by the Pallava king Nandivarman and was completed in the 7th century A.D. There are three different levels of the main shrine. There are a number of sculptures of Lord Vishnu which are quite massive in size depicting the Lord in sitting, standing and reclining postures.
One of the main attractions of this temple is the exceptional 1000-pillared hall. The unique characteristic about it is that each pillar has a statue carved on it. Lion pillars support the enclosed passages inside the temple. The architecture of the temple has played a vital role in the architectural evolution of the grand thousand pillared mandaps built in the later south Indian. There are several inscriptions in the temple related to the wars between Pallavas and Chalukyas.
Constructed in the Dravidian style of architecture, the temple is glorified in the Divya Prabandha, the early medieval Tamil canon of the Azhwar saints from the 6th–9th centuries AD. Sri Ramanujar and Sri Manavalamamunigal are said to have been to the temple. Sri Thirumangai Alvar has done Mangalasasnam in praise of the Lord here (10 Pasurams).