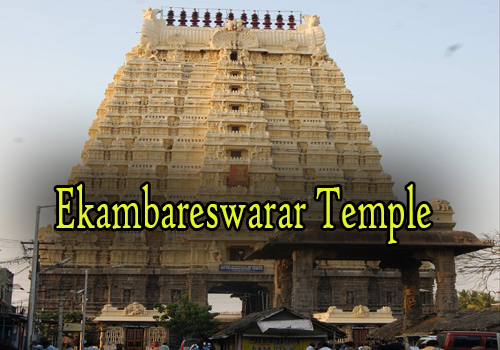 Ekambareswarar Temple is one of the famous Hindu temples dedicated to Lord Shiva, located in Kanchipuram in the state of Tamil Nadu, India.
Distance (From Kanchipuram Central Bus Station): 
2 Kms
Visited From: 
Kanchipuram Central Bus Station
Trip Duration (Including Travel): 
1 Hour
Transportation Options: 
Cab / Auto
Timings: 6 AM – 12.30 PM & 4 PM – 8.30 PM.
At a distance of 2 km from Kanchipuram Bus Station and 3 kms from Railway Station, Sri Ekambareswarar Temple is also known as 'Ekambaranathar Temple' (temple of Lord Shiva). The 'Pallavas' demolished the old structure and rebuilt the existing structure during 600 AD and 700 AD.
The total area of the whole temple is about 40 acres. The temple tower at the main entrance (Raja Gopuram) that you see here was constructed by the king Krishnadevaraya (Vijayanagar Dynasty). The height of this temple tower is 174 feet (about 57 m).
Until recently there was a mango tree in this temple, which was about 3500 years old. The tree has perished about 2 years ago due to its age. It is believed that Goddess Kamakshi Amman, whose temple is about 1/2 km away from here, worshipped Lord Shiva under this mango tree.