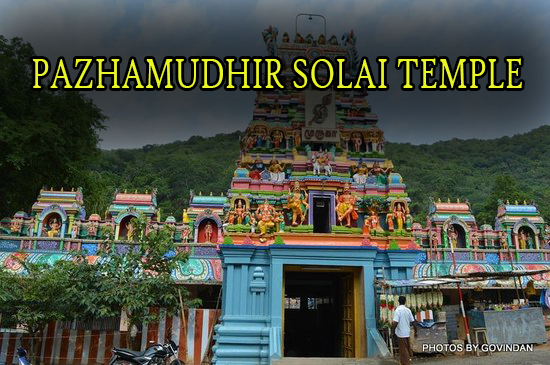 Pazhamudhir Solai is the last army camp of Lord Muruga where he graces with his both consorts Valli and Deivanai. This temple is stashed between the wild greens of the Alagar hill. There is a small spring above this temple and the water from this spring contains lots of spiritual powers. This temple is at a distance of 19 km from Madurai.
Distance (From Madurai): 
23 Kms
Visited From: 
Alagar Koil
Trip Duration (Including Travel): 
30 Mins
Place Location: 
4 Kms From Alagar Koil
Transportation Options: 
Cab / Bus
Travel Tips: 
Alagar Koil (4 Kms) can be visited along with this place

At a distance of 23 kms north-east of Madurai (4 Kms from Alagar Koil), Pazhamudhir Solai is a beautiful temple created in the memory of Lord Subramaniya who is worshipped by several people in southern India. It has great sculptures of lord subramaniya encarved in wood and marble and is a wonderful temple with giant steps in the front of it.
People worship the temple by moving across the periphery of the temple a several number of times, with the hope that their wish would come true. It is the giant temple of Lord subhramaniya in southern India and one of the most beautiful too. It is located on the hills of Alagar koil.
Prayer
People come to this temple to free themselves from the sins, obstacles in marriage or child birth and to have a prosperous life.