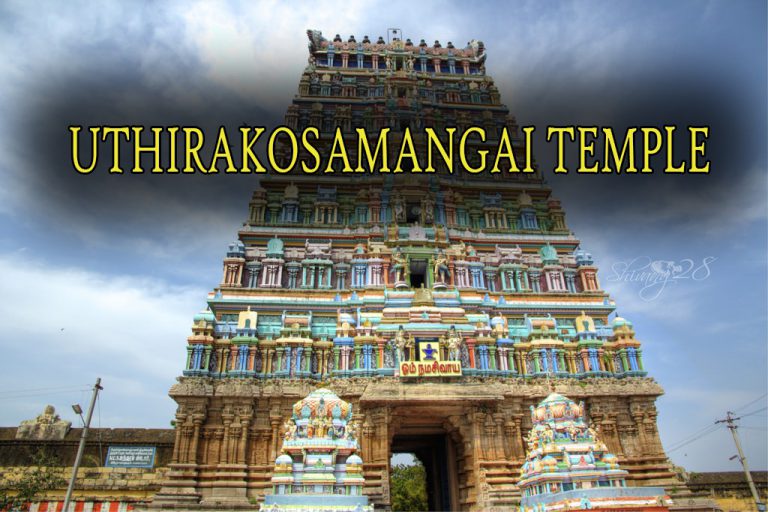 Thiru Uthirakosamangai is a renowned Shiva temple believed to exist from 3000 years ago. The presiding deity Managalanathar is believed to have preached the meanings of Vedas and other auspicious secrets of Hinduisms to His consort Managalambigai at this holy place. The temple and its glory are found to be mentioned in various literatures and Saivaite canons.
Distance (From Rameshwaram): 
70 Kms
Visited From: 
Ramanathapuram
Trip Duration (Including Travel): 
1 Hour
Place Location: 
15 Kms From Ramanathapuram
Transportation Options: 
Bus / Cab
Travel Tips: 
This place is usually visited along with Ramanathapuram (15 km)
At a distance of 70 km from Rameshwaram and 15 km from Ramanathapuram. Uthirakosamangai is famous for an ancient Siva temple considered to be 3000 years old. This is the place where Siva transferred the secrets of Vedas to Parvati. Uthiram means (updesham) kosam (secrets) Parvati (Mangai) hence this place is known as Uthira Kosa Mangai.
The main deity here is Mangalanathar (Siva) and his consort is Mangleshwari. The main attraction of this temple is a statue of Natarajar made of emerlad which is about 51/2 feet tall. This idol is known as Margatha Natarajar and the deity is always covered with sandal paste. Only in the Tamil month of Margazhi on Tiruvathira nakshtram the sandal paste gets removed and there is abhishekam for the idol and this special darshan is known as Arudhra darishanam.There is a Nandi just outside the sanctum and a bigger Nandi in the outer prakaram known here as Pradosha Nandi. Special poojas are conducted here on Pradosham days in the evenings as it is believed that Siva dances between the horns of Nandi during that time.
Annual 'Arudhra' festival in December attracts a large number of devotees on this day and on the next day again the idol gets smeared with sandal paste.