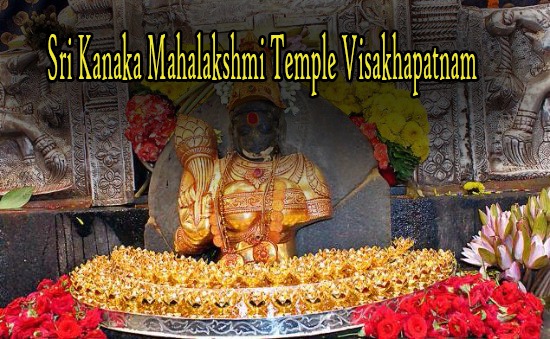 Shri Kanaka Mahalakshmi temple, is a historical place with strong religious background connected to the city. Kings of Visakhapatnam were great devotees of Shri Kanaka Mahalakshmi, who is believed to be the personification of Shri Lakshmi. The divine idol is admired and worshipped by the local people as Ammavari. It is believed that Goddess Shri Kanakamalahshmi is considered the family deity of rulers of this area and the present location of the temple was in the ramparts of their fort.  This temple area is known as Burujupeta, ever since the statue of Ammavari was found from a well close to Buruju, which means fort.
The lady devotees have staunch belief that the Goddess blesses them with "Sumangali bhagyam"(to live with their husbands for long) . The devotees of Goddess bring their newly born babies to the temple and keep them at the feet of Goddess and seek blessings.
Sri Kanaka Mahalakshmi Temple Vizag Entry Fee:
 20 per person for Special Darshan
 200 per person for Ksheerabhishekam (only on Fridays / 8:00 AM)
 50 per person for Samuhika Ashtothara Kukumarchana
 516 per couple for Panchamruthabhishekam
 10 per person for Kesakhandan
 200 per person for Margasiramasa Special Darshan
 100 for Heavy Vehicles (4 Wheeler) Pooja
 25 for Two/Three wheeler Vehicles Pooja
Every year, a month long Margasira Masa Mahothsvam is celebrated.  During this time, Goddess blesses with Annadanam. Almost 300 people are fed with prasadam and food every day, and on Thursdays the number of devotees increases to 600 which are known as Saswatha Annadanam, which is the right day to have Shri Kanaka Mahalakshmi's blessings.  On the final day of the festival, almost 10000 people are fed, and  this entire one month festival is carried on with the collections from the devotees and philanthropists.  Recently, Maladharana celebration has started with two vital poojas, Margasira Deeksha and Mandala Deeksha, during which devotees throng to get specially blessed by the deity.
On Ugadi day, which is the New Year in Andhra, the Goddess  is decked with ornaments of silver, giving a heavenly darshan.  On Navrathri occasion, on the 5th day, Goddess is decorated with Laksha kumkumarchana marking Sarannavrarathri.  Since our Hindu almanac has festivals lined up through the entire year, devotees visit 365 days, to pray to their miraculous Goddess,  to save and protect them. Burujupeta is definitely a divine place to retreat.
Sri Kanaka Mahalakshmi Temple Vizag Timings:
Day Timing
Monday 5:00 am – 5:00 am
Tuesday 5:00 am – 5:00 am
Wedesday 5:00 am – 5:00 am
Thursday 5:00 am – 5:00 am
Friday 5:00 am – 5:00 am
Saturday 5:00 am – 5:00 am
Sunday 5:00 am – 5:00 am
Note:
Temple is closed from 11:00 am to 11:30 am & 5:30 pm to 6:00 pm for Cleaning
Daily Pooja / Sevas Timings:
Name of the Seva Timings:
Panchamruthabhishekam, Sahasranamarchana, Balabhoga Nivedhana5:00 am to 6:00 am
Sarva Darsanams 6:00 am to 11:00 am
Panchamruthabhishekam, Astotharanamarchana,
Rajabhogam, Mahanivedhana
11:30 am to 12:00 pm
Sarva Darsanams 12:00 pm to 5:30 pm
Panchamruthabhishekam, Astothara Sathanamarchana,
Sayamnivedhana
6:00 pm to 6:30 pm
Sarva Darsanams 6:30 pm to 5:00 am
KumKum Pooja 7:00 am to 9:00 pm
Ksheerabhishekam Pooja 8:00 am to 9:00 am (Performed on
every Friday)
Address:
Town Kotha Rd, Burujupeta, Chengal Rao Peta, Jagadamba Junction, Visakhapatnam, Andhra Pradesh 530001