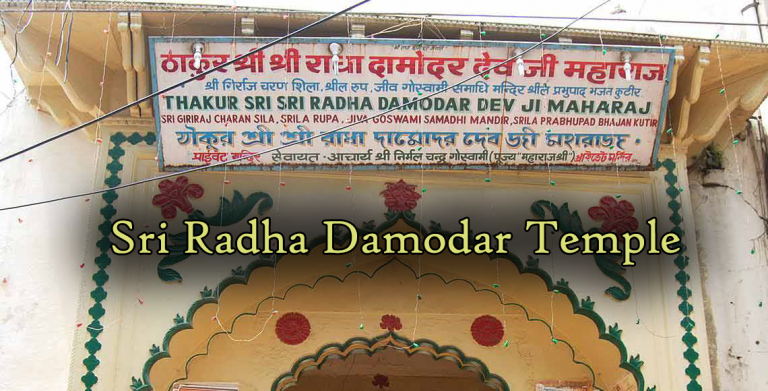 Sri Radha Damodar Mandir was established by Srila Jiva Goswami in the year 1542 AD. The deities of Sri Radha Damodar were given to Srila Jiva Goswami by his guru, Srila Rupa Goswami Prabhupada and have been worshipped here. Later during the attack of Aurangzeb on Vrindavan, the idols of Radha Damodar were shifted to Jaipur for some time and were brought back to Vrindavan in 1739 AD.
Distance (From Vrindavan Railway Station): 

1 Kms

Visited From: 

Vrindavan Railway Station

Trip Duration (Including Travel): 

1 Hour

Transportation Options: 

Cab / Auto

Timings: 6.30 AM – 12.30 PM and 5 PM – 9.30 PM in summer, and 7.30 AM – 1 PM and 4.15 PM – 8.45 PM in winter.
At a distance of 1 km from Vrindavan Railway Station, Sri Radha Damodar Mandir is an ancient temple situated at Loi Bazar near Seva Kunj in Vrindavan.
Daily poojas and Festivals:
This temple Timings: Mangala Aarti 4.30 am; Summer darshan 6.30 am to 12.30 pm, 5.00 pm to 9.30 pm; Winter darshan 7.30 am to 1.00 pm, 4.15 pm to 8.45 pm. During this period major part of the Lord Krishna rituals are performed. Archana, Aarti and Abhisekham are the daily pujas performed.
Sevas & Arati Types:
In this temple, Lord Krishna is offered bhog five times a day and various seva is performed. Most prominent among them are:
Mangla Seva,
Dhoop Aarti Baalbhog Seva,
Sringar Seva, Raajbhog Seva,
Sandhya Dhoop Seva,
Sandhya Aarti Seva,
Shayan Seva,
Abhishek Seva,
Poshak Seva,
56 Bhog Seva,
Bhool Bangla Seva,
Mukut Sringar Seva,
Sadhu Vaishnav Seva,
Gau (cow) Seva,
Hari Naam Sankirtan Seva
including others. In Mangla Seva, Makhan-Mishri, Kheersa (in clay pot), Ghee and others are offered, Dhop Aarti Baalbhog Seva in which fruits, Makhan, Mishri, dry fruits, Kheechadi Seva and other sweets are offered. Sringar Seva is performed with offering garlands made of fresh flower of season, decorative ornaments and aarti.
Festivals:
Many festivals are celebrated with enthusiasm and devotion. Some of them are Kathik, Sharad Purnima, Govardhan Puja, Srila Prabhuapad Tirobhav, Gopaastami, Devotthan Ekadasi, Sri Radharani Charan Darshan, Kartik Maharaas Purnima, Vanjuli Mahadwadasi, Srila Jiva Goswami Tirobhav Mahotsav, Sri Radha Damodar Praakatya Utsav, Acharya Sri Gaurachand Goswami Avirbhao, Holi, Sri Gaur Purnima, Chandan Yatra and many other.
The bhajan kutir and Samadhi of Srila Rupa Goswami as well as the Samadhi's of Srila Jiva Goswami, Krishnadasa Kaviraja Goswami, Bhugarbha Goswami and the bhajan kutir of Srila Bhaktivedanta Swami Prabhupada are present in the temple premises. Jiva Goswami established a library here, where he stored all the original manuscripts of the Goswamis. The Vrindavan Research Institute has been able to preserve some of the original library, including autographed manuscripts of Sanatana Goswami and Rupa Goswami.
There is a Govardhana – Shila in this temple, called Giri Raj Charan Shila that was worshiped by Sanatana Goswami. It has Lord Krishna's footprint on it. During Kartika season, the day after Diwali is celebrated as Annakut Mahotsav in which Giriraj Shila is placed out from the Garbha Graha for devotees Darshan.