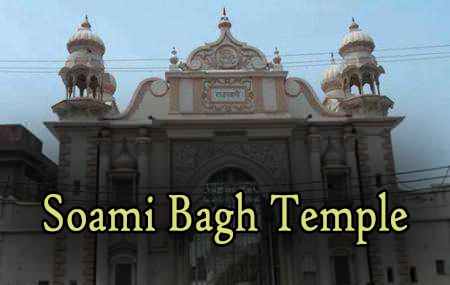 The Soami Bagh Samadhi is mainly the mausoleum of Huzur Swamiji Maharaj. The Soami Bagh is also called as Radha Swami Samadhi. He established the Radhaswami Faith. The Radha Soami Satsang Movement was started in 1861 as an effort to amalgamate all the world religions like Hinduism, Christianity, Sikhism and Buddhism and so this building reflects the styles seen in temples, mosques, gurudwaras and viharas.
Distance (From Agra Cantonment): 

9 Kms

Commonly Visited From: 

Agra Cantonment

Trip Duration (From Agra Cantonment, Including Travel): 

1 Hour

Transportation Options: 

Bus / Cab / Auto

Timings: 10 AM to 6 PM

At a distance of 9 km from Agra Cantonment railway Station, Soami Bagh Temple is situated in Dayalbagh in the outskirts of Agra.

Address: 

Panni Gali, Kasmiri Bazar, Mantola, Agra, Uttar Pradesh 282003

Radhasoami Samadhi in Agra Timings:
Further, Radhasoami Samadhi in Agra can be visited throughout the year. The place is opened from 10 am till 5 pm everyday. The entry to this holy Samadhi is free for all the visitors. The best and suitable months to visit the Radhasoami Samadhi in Agra is during the winters i.e. November till March.

festivals celebrated:

Bhandara festivals are celebrated here which attracts large number of devotees.

The building is 110 feet in height made of white marbles and features numerous pillars and fine pietradura inlay work on the inner walls. Construction began in February 1904 and has been continuously under construction for the past 100 years.

Located adjacent to the mausoleum, there is Bhajan Ghar the place where, Soamiji Maharaj carried out the spiritual practices during his lifetime; the Bhajan Ghar also houses satsang once per day.