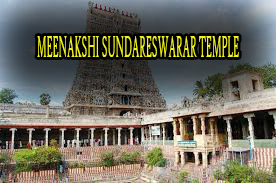 The Madurai Temple forms the heart and lifeline of Madurai city which is 2,500 year old. The original temple was built by Kulashekara Pandya, but the initiative to rebuild the structure was taken by first Nayak king of Madurai, Viswanatha Nayak (1559-1600) under the supervision of Ariyanatha Mudaliar.
Distance (From Madurai Junction): 
2 Kms
Commonly Visited From: 
Madurai Junction
Trip Duration (From Madurai Junction, Including Travel): 
2-3 Hours
Transportation Options: 
Cab / Auto / Walk/Trek
Travel Tips: 
It usually takes about 2-3 hours to explore the Meenakshi temple. It can go up to 4-5 hours during festival season.
At a distance of 2 Km from Madurai Junction Railway Station, the historic Meenakshi Sundareswarar Temple, also called as Meenakshi Amman Temple, is one of the biggest and most popular pilgrimage sites in India. Dedicated to Goddess Parvati and Lord Siva, the temple is considered an architecture marvel. It was shortlisted as one of the top 30 nominees for New Seven Wonders of the World. It is one of the the prime places to visit in Madurai.
The temple was substantially expanded to the current structure during the reign of Thirumalai Nayak between 1623 and 1655 CE by the Nayak rulers. The credit for making the temple as splendid as it is today goes to Tirumalai Nayak who brought back glory to this magnificent structure.
The sacred pond (Potramarai Kulam) inside the Meenakshi Amman Temple measures 165 ft by 120 ft is visited before entering the temple. The view of the temple is marvelous from the pond premises with towers raised on all sides. The walls on western side of the temple pond are beautifully pained in color which depicts the legend behind the temple and scenes from the marriage of Shiva and Parvathi.
The Thousand Pillar Hall contains 985 (instead of 1000) carved pillars. It was built by Ariyanatha Mudaliar in 1569. It is currently houses a museum with artifacts collected from Madurai from 8th century onwards. There are the Musical Pillars outside this hall towards the west. Each pillar produces a different musical note when struck.
The annual 10-day Meenakshi Tirukalyanam festival, celebrated during April and May, attracts 1 million visitors.
Timings: 5 AM to 12:30 PM & 4 PM to 9:30 PM
The complex is built in around 45 acres of land and is a massive structure measuring 254 by 237 meters. The temple is surrounded by 14 towers, the tallest of which, the famous Southern tower, rises to over 170 ft high built in 1559. The oldest gopuram is the eastern one, built by Maravarman Sundara Pandyan during 1216-1238. The temple attracts 15,000 visitors a day, around 25,000 on Fridays. The temple has four entrances, while the entrance on Eastern side being the main temple entrance.
The temple is an architectural wonder with an estimated 33,000 sculptures in the temple. There are several corridors, halls and shrines inside the temple. The corridors and pillars are adorned with wonderful artwork. The outer walls of the main shrines Meenakshi Amman and Sundareswarar have breathtakingly beautiful sculptures carved with so much detail. The sculptures depict the mythological stories, Shiva & Parvathi marriage scenes, etc. The colored sculptures on the temple towers are quite famous with extensive details and art work and thousands of sculptures