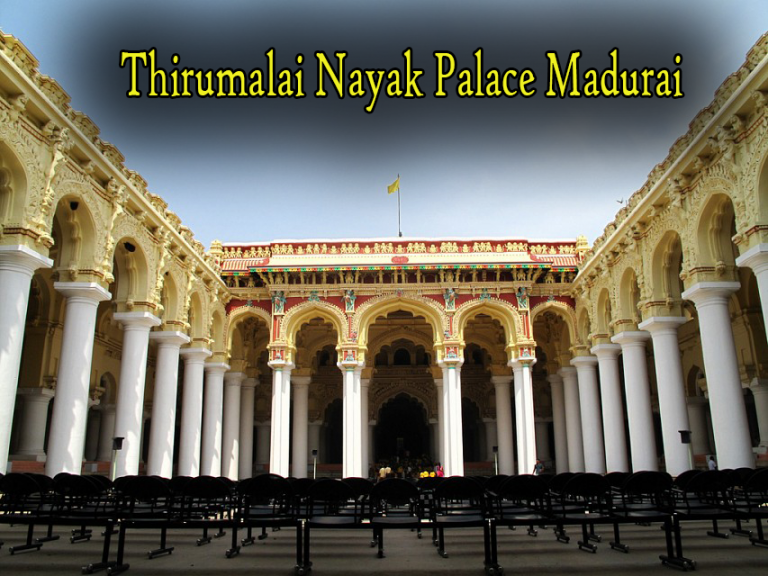 Thirumalai Nayakar Palace was erected in 1636 AD in the city of Madurai, by King  is located in the vicinity of the very famous Meenakshi Amman Temple.
Distance (From Madurai Junction): 
3 Kms
Commonly Visited From: 
Madurai Junction
Trip Duration (From Madurai Junction, Including Travel): 
1-2 Hours
Place Location: 
1 Km From Meenakshi Temple
Transportation Options: 
Cab / Auto / Walk/Trek
At a distance of 3 km from Madurai Junction Railway Station and 1 km from Meenakshi Temple, Thirumalai Nayak Mahal is a palace complex constructed in the Indo-Saracen style by Thirumalai Nayak in 1636. It is among the major Madurai tourist places.
Thirumalai Nayak Palace, which is considered a wonder of South India, was constructed by Thirumalai Nayak, King of Nayaka dynasty of Madurai, in 1636 AD. This grand palace is a fusion of Islamic and Dravidian architectural styles. The palace was originally four times bigger and it had two parts. The first part was Swargavilasa or the heavenly pavilion, meant for the King, and Ranka Vilasa for servants. The royal residence included palanquin place, apartments, theater, armory and garden. The palace was later demolished by Thirumalai Nayak's grandson, Chokkanatha Nayak. Most of the woodcarvings and jewels from the palace were removed by him and used to construct his own palace.
An artistic blend of Dravidian and Islamic styles, Thirumalai Nayak Palace is a place worth admiring and exploring when on a Madurai Tour. It was built in 1635, by the King Thirumalai Nayak who had the vision of creating a masterpiece for royal stay. It was designed as a residence for the king by an Italian architect. This palace is a must visit for history lovers and those who love to explore architectural fineness of bygone eras. The sound and light shows are conducted every evening at the palace, making your trip to this palace even more exciting. Now under the protection of Tamil Nadu Archaeological Department, this palace was declared as a national monument immediately after independence.
Know basics about Thirumalai Nayakar Mahal
The palace is well equipped to perform Light & Sound and displays a show depicting the story of Silappathikaram and the same is done both in Tamil & English languages everyday. After independence, the Palace was declared as a national monument and is now under the protection of the Tamil Nadu Archaeological Department. This palace is open for the visitors from 9am to 5pm.