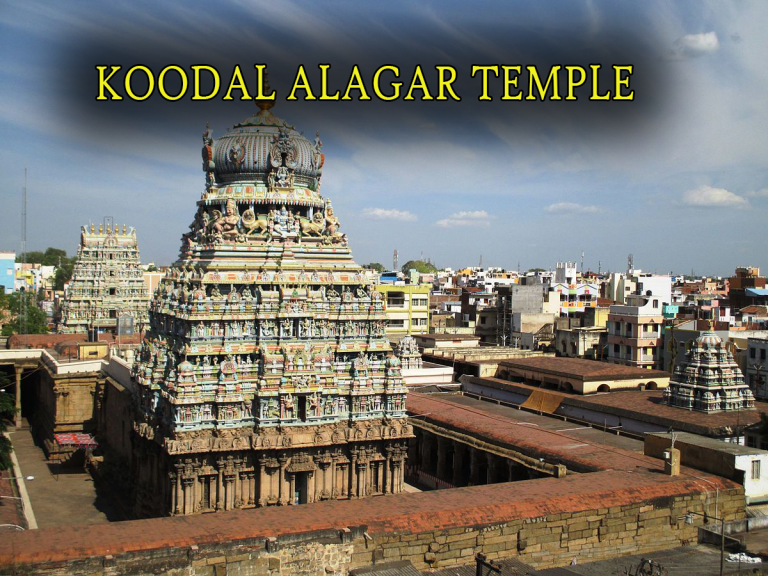 Koodal Azhagar Temple in Madurai, a city in the South Indian state of Tamil Nadu, is dedicated to the Hindu god Vishnu
Distance (From Madurai Junction): 
2 Kms
Commonly Visited From: 
Madurai Junction
Trip Duration (From Madurai Junction, Including Travel): 
1 Hour
Transportation Options: 
Cab / Auto
At a distance of 1 km from Madurai Junction Railway Station & 1.5 km Meenakshi Temple, The Koodal Alagar Temple, also known as Arulmigu Koodalazhagar Thirukoil, is another important temple in Madurai. Dedicated to Lord Vishnu, this temple is believed to be older than the Meenakshi temple. It is one of the important places to visit in Madurai.
A unique feature of this temple is the three different postures of the same God. The three figures of Vishnu are in standing, sitting and reclining postures. These three figures of the deity are known by three different names. The most venerated of the three figures is Lord Vishnu in the seated posture. The seated Lord Vishnu is locally known as Lord Koodal Alagar from whom the temple derives its name. The reclining idol is known as Sri Ranganatha. Sri Surya Narayan Perumal is the name for the standing image of Lord Vishnu.
This temple possesses wonderful architecture and artwork. Adorned with a temple tower followed by the main shrine which has a large rangamandapa and the sanctum, the temple has a corridor around the main shrine which has faded color paintings on the walls depicting different gods and goddesses. The vomana over the sanctum has beautiful sculptures in color paint. The outer walls of the sanctum are wonderfully carved, especially the beams that touch the vimana of the sanctum.
This temple has wonderfully carved ornamental windows. There are also wood carvings of Lord Rama's Pattabhishekham (coronation). This temple attracts large number of devotees on the festival days.
Timings: 5.30 AM to 12 PM and 4 PM to 9 PM