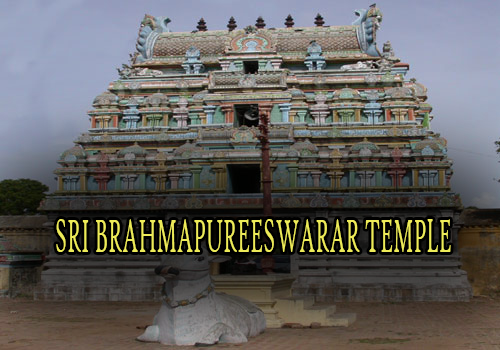 Sri Brahmapureeswar Temple at a distance of 35 km from Trichy, Sri Brahmapureeswar Temple is one of the rare temples dedicated to Lord Brahma situated at Thirupattur. While this is predominantly a Shiva temple, it is very closely associated with Lord Brahma. Devotees believed that a person can change his fate by seeking blessings at Brahmapureeswarar Temple.
Distance (From Tiruchirappalli Junction): 

35 Kms
Visited From: 

Samayapuram (16 km)
Trip Duration (Including Travel): 

2 Hours
Place Location: 

Close To Siruganur Between Samayapuram – Perambalu
Transportation Options: 

Bus / Cab
Temple History:
Brahmma got the creation rights from Lord Shiva. With a view to give Brahmma
equal status, Lord Shiva gave him five heads as He had. Brahmma became proud of
this position. Shiva took off one head. Brahmma also lost his creation job. Brhamma
sought relief and apologized for his folly.
Lord Shiva advised Brahmma to go to Tirupattur on Earth and worship Him with 12
Lingas (Dwadasalingas) and offered relief. As Lord Shiva changed Brahmma's own
bad destiny, he was advised to so in the case of devotees. As Brahmma worshipped
Shiva here, the Lord is named Brahmmapureeswarar. Mother Goddess is named
Brahmmanayaki or Brahmma Sampath Gouri.
The presiding deity of the temple is Sri Brahmapureeswarar in the form of a Swayambu Lingam. He is called Brahmapureeswarar since he changed the destiny of Brahma. There are seven enclosures leading to the sanctum. Every year in the Tamil month of Panguni (March-April) for three days, the sunlight falls directly on the presiding deity. It is a miracle that the sun rays cross the seven entrances and fall directly on the lingam.
Goddess Parvathi is worshipped as Brahma Sampath Gowri, situated adjacent to Sri Brahmapureeswarar shrine. There is a separate shrine for Lord Brahma in meditative pose sitting on a lotus. The idol of Lord Brahma is magnificent 6 feet high decorated with Turmeric. The temple complex also has the Jeeva Samadhi of Yogi Patanjali, the author of Yoga Sutras.
According to mythology, Lord Brahma once became very proud that he is the creator of the universe. He felt he was more powerful than Lord Shiva – since he had the power of creation. Seeing his pride, Lord Shiva got angry and destroyed Brahma's 5th head and also cursed him that he would lose his powers of creation. After losing his fifth head and the duty of creation, Brahma realized his mistake. He worshipped Shiva at various places to be relieved from the curse. Lord Brahma installed 12 lingams around the Bramhapureeshwarar site and worshipped Shiva here for very long time. Pleased by Brahma's affections, Shiva gave him darshan under the Magizha tree and liberated him from his punishment.
The 12 small shrines of Lord Shiva situated in the Bramhapureeshwarar temple complex are Sri Bhramapureeswara, Sri Pazamalainathar, Sri Pathalaeswarar, Sri Sudharaneeswarar, Sri Thayumannar, Sri Sabthagereswarar, Sri Kalathinathar, Sri Jambukeswarar, Sri Kailasanathar, Sri Arunachaleeswarar, Sri Ekambreswarar and Sri Manduganathar.
Brahmotsavam festival, Maha Shivarathri, Kathigai, Navarathri and Vinayaka Chathurthi are the major festivals celebrated here. Mondays and Thursdays are the most favored days for getting darshan.
The Kailasanathar temple is another temple located in Thirupattur, which is around 1 km from Brahmapureeswarar temple. This temple contains the jeeva samaadhi of sage Vyagrapadha.
THESE 12 SHRINES OF LORD SHIVA WHICH COMPRISE THE
BRAMHAPUREESWARAR TEMPLE COMPLEX ARE :
Sri Brahmapureeswarar – Presiding Deity
Sri Pazhamalai Nathar – Opposite Yogi Patanjali Shrine
Sri Pathala Eswarar – Near Sri Chandikeshwarar Shrine
Sri Thayumanavar – Entrance to Devi Shrine
Sri Manduga Nathar – Garden adjacent to Devi Shrine
Sri Ekambareswarar – Garden adjacent to Devi Shrine
Sri Arunachaleswarar – Garden adjacent to Devi Shrine
Sri Kailasa Nathar – Garden adjacent to Devi Shrine
Sri Jambukeshwarar – Garden adjacent to Devi Shrine
Sri Kalathi Nathar – Garden adjacent to Devi Shrine
Sri Sabthagereswarar – Garden adjacent to Devi Shrine
Sri Sudharaneswarar – Near Navagraha Shrine
Temple Opening Time:
The temple is open from 7.00 a.m. to 12.30 p.m. and 4.00 p.m. to 8.00 p.m.
Address:
Sri Brahmmapureeswarar Temple, Siruganur, Tirupattur, Perambalur district.