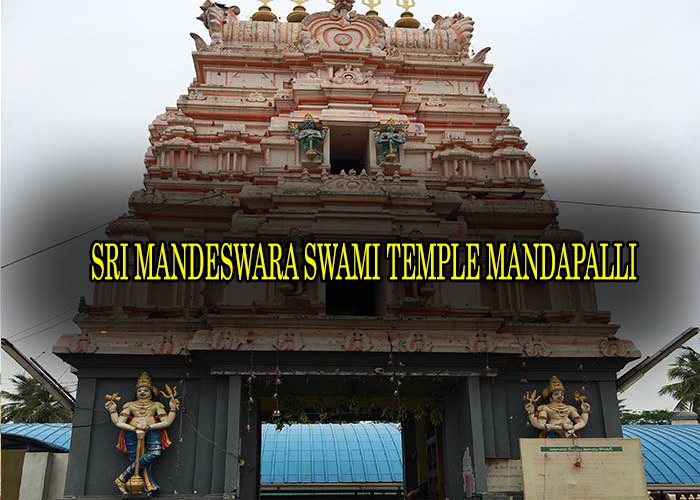 Mandapalli is Situated 38 Km from Rajahmundry, 60 Km from Kakinada and 30 Km from Amalapuram.In the days of yore, this locality was the holy ashram of the sage Dhadhichi Maharshi. This hermit Dhadhichi has done a supreme sacrifice of donating his valuable spinal cord for the mighty and powerful weapon popularly known as Vajrayudha of Lord Indra, which was employed to kill the deadly asuraas. The weapons wielded by the eight suras in the eight directions called astadikpalakas, killed innumerable ghostly demons. To avenge the death of these demons certain other demons called Aswadha and Pippale invaded the area under reference and brought about untold havoc.
Mandapalli Temple History:
As per the Legend, Lord Indra Killed the demon Kartaba with the weapon (Vajrayudha) made out of Sage Dadichi's spinal cord. In revenge for his father's death, demons Pippala and Aswatha conducted a war.Sage Agasthya and others approached Saneswara for the defence. Sages offered their divine power to Shani Bhagawan. The battle between the demons and Shani went for a year and killed them at the end. Saneswara Bhagavan installed and worshipped Lord Siva to get rid of Brahma Hatya dosha.It was mentioned in the Markandeya Purana that whoever performs Thailabhishekam for Siva at this temple will be relieved from Shani Dosha. Devotees used to perform Poojas for Nageswara Lingam to get rid of Naga Dosha. This Linga was installed and worshipped by the Serpent Karkotaka. Brahmeswara Lingam was installed by Lord Brahma. Sage Gouthama installed Venugopala Swamy as the Kshetra Palaka. Shani Trayodasi, Masa Sivaratri and Maha Sivaratri will be celebrated in a grand. Devotees used to perform Abhishekam for Lord Siva with gingelly oil. Shani Trayodasi occurs twice in four months. Temple will be heavily crowded on Shani Trayodasi which comes before Amavasya than on Shani Trayodasi before Pournami day.
Lord Siva is called by Mandeswara Swamy, who resides here with his consorts Parvati Devi.
After that Sani declared that whoever worship this Linga by offering the dear gingelli oil etc. would be blessed. He further said that he would bless such devotees obviating all evils that befall them due to the curse Satru.For this reason, Lord Eswara is popularly known as Saneswara or Mandeswara. So people offer gingelli products which are dear to Sani who is the diety here.
She is sponsored by Siva. This Linga is said to be one of the Sapta Maharshis. There is also another version that the wives of the Saptha Maharshis installed this lingam here.
Other Temples Inside Mandapalli:
Sri Brahmeswara Swamy
In ancient days this was the area where Lord Brahma performed a great YAGNAM and hence this is called Brahmagundam, as the sacred fire of the Yagnam has not extinguished for a long time. Gouthama Maharshi, made the river Godavari to flow thought it. Hence it is also known as Brahmagundam. Lord Brahma installed the idol of the "Eswara" in this place.
Sri Nageswara Swamy
After Saturn killed the Asuras, he gifted away, the holy region to the Maharshis and "Brahmins". Here "Karkotaka" a ferocious Snake-King had performed penance. The Maharshis were terribly afraid of the Karkotaka and at their request the "Karkotaka" left the place. If any one installs the idol of the Lord Siva and worships him, he will be free from the snake bites and threat from snakes.
Sri Venugopala Swamy
Dhadhichi Maharshi presided in Gopala Kshetram on the banks of the Godavari. Gowthama Maharshi implored Trayambakeswara for the river Ganga to flow out from his Jhata Jhutam, in order to get rid of the sins. Gowthama Maharshi installed idol of Lord Venu Gopala Swami beside the river hence this place is called as Gopala Kshetram.
Festivals:
Kalyanam of Sri Swamivaru (Magha Bahula Ekhadasi) (February/March every year).
Devi Navaratrulu (Aswayuja Masam Nine days) (September/October every year).
Karthika Masam (November/December every year).
Lakshapatri Puja (Karthika Masam) (November/December every year).
Sani Trayodasi Festivals.
Accommodation:
No Guest House available except Yatri-Nivas small family portion constructed by 15 persons jointly available without any equipment. It is being used by the Donor's every month for their stay on visit to Mandapalli.
Mandapalli Temple Pooja details:
Ekadasa Rudrabhishekam with Gingely Oil Daily (Preferable on Sat)
Mahanyasa Purvaka Thailabhishekam Daily (Preferable on Sat)
Thiladhanam Daily (Preferable on Sat)
Homam for Shani Dosha Daily (Preferable on Sat)
Note:
Tickets can be purchased on arrival at the counter. Online booking is not available for the Poojas.
Thailabhishekam costs Rs.80 for per person and Rs.80 for Thiladhanam. It takes 2 hours to complete the
Pooja
Mandapalli Temple Timings:
Day Morning Hours Evening Hours:
Sunday 5:00 am – 12:00 pm 4:00 pm – 8:00 pm
Monday 5:00 am – 12:00 pm 4:00 pm – 8:00 pm
Tuesday 5:00 am – 12:00 pm 4:00 pm – 8:00 pm
Wednesday 5:00 am – 12:00 pm 4:00 pm – 8:00 pm
Thursday 5:00 am – 12:00 pm 4:00 pm – 8:00 pm
Friday 5:00 am – 12:00 pm 4:00 pm – 8:00 pm
Saturday 4:00 am – 1:00 pm 4:00 pm – 8:00 pm
Address:
Sri Mandeswara Swamy Temple,
Mandapalli (V),
Kothapeta Mandal,
East Godavari District.
Pin- 533 238