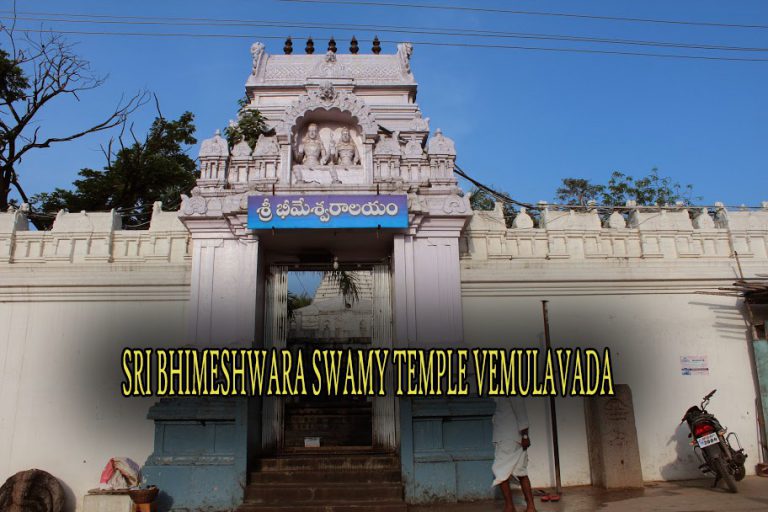 Bhimeswaraswamy temple is peaceful and quiet as not many people seem to visit it, normally but what an architectural treasure it the entrance of the temple is a raised platform that has the Navagrahas and idols of Lord Hanuman and small Siva Lingas. A few steps lead up to the high platform, such pedestals for Navagrahas and idols are common in temples but not one where you can actually climb it, touch the idols and pray.
Distance (From Vemulawada Bus Station): 

1.5 Kms

Visited From: 

Sri Raja Rajeshwara Swamy Temple (0.5 km)

Trip Duration (Including Travel): 

1 Hour

Transportation Options: 

Cab / Auto / Walk/Trek

Timings: 6 AM – 12:30 PM and 3 PM – 7:30 PM.
FESTIVAL:
Every year at the time of Maha Shiva Rathri devotees in large numbers attend this temple while visitng Raja Rajeshwara Swamy Temple.
At a distance of 1.5 km from Vemulawada Bus Stand, 0.5 km from Sri Raja Rajeshwara Temple(Vemulawada Temple), Sri Bhimeshwara Swamy Temple is one of the most important temples in Vemulawada.
Bhimeswara Temple is known for its strict following of Vedic rules and regulations with a lot of perfection. This temple belongs to 9th century A.D which was constructed under the direct influence of Shaiva religion. The pujas and rituals are performed in time in a religious manner. The priests of this shrine are having vast experience and high qualification in perfectly performing the various kinds of religious functions and activities. The local people visit this temple daily and on certain auspicious days and festive days. At this temple, various types of pujas, rituals, yagna and homams are conducted as per the request of the adherent devotees. This is the most visited temple of this region with family members, relatives and close friends with great devotion and commitment. It is the most visited and popular temple among the group of ancient temples of this region. A good number of domestic and foreign pilgrims and visitors daily visit this shrine during the day hours.
Dedicated to Lord Shiva, this temple belongs to 9th century CE. It was built by Chalukya king Bhaddega during 850-895 CE. The temple is surrounded by a massive stone compound. This temple boasts wonderful is architecture. Built in the Nagara style, the temple is built on a raised platform with a mukhamandapa, an entrance hall and a Sanctum Sanctorum. The raised platform has a variety of rich carvings of Siva, Dasavataras and the Panchatantra stories.
Inside the mukhamandapa the four central pillars are taller than the rest of the pillars. The central pillar is a huge and massive one and the base of which contains extensive relief work on four sides that include Swans, Apsarasas, Elephants, etc. In the sanctum sanctorum houses a large Shiva Lingam with 3 feet diameter.