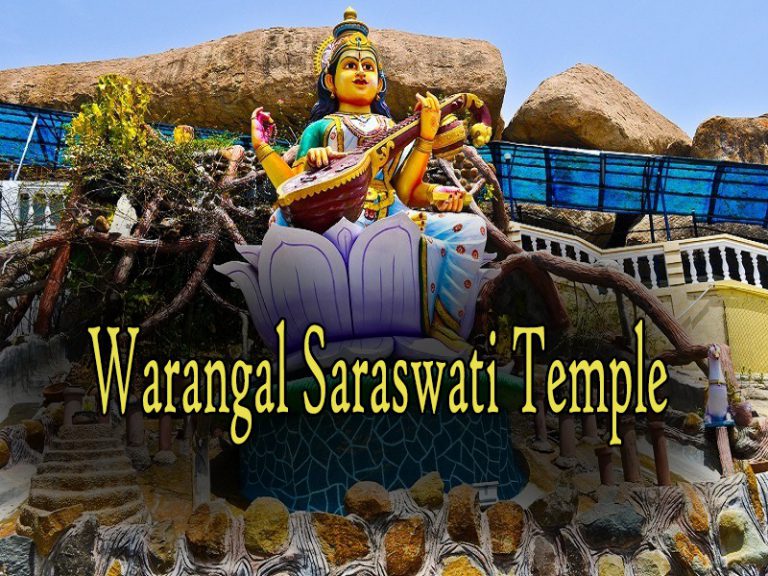 The Wargal Saraswati Temple is one among the few temples of goddess Saraswati in Telangana. Also known as Sri Vidya Saraswati Temple, it was built by Sri Yamavaram Chandrashekhara Sharma. The temple foundation stone was laid in 1989. On 1992 Sri Vidya Nrusinha Bharati Swamy has laid the foundation to the statues of Goddess Sri Vidya Saraswathi Devi and Lord Shani. Now it is maintained by Kanchi Mutt.
Distance (From Medak): 

80 Kms

Visited From: 

Medak

Trip Duration (Including Travel): 

4 Hours/Half Day

Transportation Options: 

Bus / Cab

Travel Tips: 

Wargal can be visited while visting Medak Fort and Medak Church or Karimnagar from Hyderabad with 1-2 hours extra effort. Wargal is 5 km from Karimnagar / Siddipet highway and 17 km from NH-7 (Medak / Nizamabad / Adilabad highway).

Timings: 6 AM – 12.30 PM and 4 PM – 7.30 PM from Monday to Thursday, 6 am – 2 pm and 4 pm- 7.30 pm from Friday to Sunday.
Address:Sri Vidya Saraswathi Temple Wargal1-6-15, Gaddi annaram, Wargal, Telangana 502279.
At a distance of 52 km from Hyderabad, 80 km from Medak and 61 km from Siddipet, The Saraswati Temple situated on a hillock at Wargal village in Medak District of Telangana is the most famous Saraswati temple in the state after Basara. This temple is famous for Aksharaabyasa for children. It is one of the popular pilgrimage sites around Medak & Hyderabad.
Wargal Saraswati Temple Aksharabhyasam Timings:
Aksharabhyasam usually starts between 8:10 AM to 8:30 AM depending on number of devotes. They perform Aksharabhyasam in batch wise so once first batch is done then second batch will start. This process continues until they close the temple.
About
Wargal Temple has the famous Sri Vidya Saraswathi and is located with scenic background and has a valley around this hill with the unique rock formation. Here, there is a temple dedicated to Lord Shani with a large statue about 3 feet tall which is one of the largest statues of the Shani Lord in Telangana.
The hillock of Wergal has multiple temples on the same hill.
1. Lord Shiva Temple
2. Lord Shanishwara Temple
3. Sri Vidya Saraswati temple
4. Sri Lakshmi Ganapathi Temple
5. Few Vishnava Temples now completely damaged without any mola vigrahas in it.
Daily Poojas and Procedures:
Every day, 100 people received free food to visit the temple in a large dining room of the temple complex. During the Dussehra period, thousands of devotees visit the temple every day. The Dussehra Temple begins with Vigneshwara Pooja. Maha Abishekam Navaratri Kalasha Sthapana Sha Chathu Sha Pacha Pooja, Kukumarchana, Mantha Pushpam, Arathi were performed. The last day of Vijayadarshanam goddesses Saraswati is decorated for the devotees.
Pooja for Lord Shani A special pooja will be made on each Shani Trayodashi who arrives on Saturday. The poojas for Lord Shani started in the morning at 5 am, starting with Japam and Ganapathi pooja, Homam will be played with Tarpana to Lord Shani. Lord Sheni will be worshiped with oil called Taila Abishekam. The Homam for Lord Sheni will be finished at 12:00 with Arathi, Poornahuthi, etc. This is a very big event for this temple that attracts 1000 devotees from all over the telangana and other places in India.
Some special poojas that are performed at Wargal Saraswathi temple are Chandi Homam which is a special event here.
Seva Tickets
Abhishekam – SV Temple – RS.200
Kumkuma-Archana (SV Tempe) – RS.25
Cheere (Saree) – SV Temple – RS.10
Odi Biyyam – SV Temple – RS.10
Mudupu – RS.10
Annaprasanam – RS.50
Sri Vidya Saraswathi Mandala Pooja – RS.500
Lakshmi Ganapati Archana – RS.25
Lakshmi Ganapati Dhoti – RS.10
Lakshmi Ganapati Abhishekam – RS.50
Lakshmi Ganapati Mandala Pooja – RS.500
Akshrabhyasam – RS.150
Vahana Pooja- 2 or 3 Wheeler – RS.100
Vahana Pooja- 4 Wheeler – RS.150
Shani Archana – RS.25
Shani Thylabhishekam – RS.100
Shani Ntya Pooja – 6 months – RS.300
Shani Ntya Pooja – 12 months – RS.600
Shani Ntya Pooja – 30 months – RS.1,500
Shaswatha Pooja/ Annadanam Schemes
Sri Vidya Saraswathi Sri Shani Temples
Shaswatha Pooja (One day in every year) – RS.1,500
Shaswatha Moola Nakshatra Pooja – RS.5,120
Shaswatha Lakshmi Ganapati Nitya Pooja – RS.5,120
Shaswatha Nitya Pooja (Every Day) – RS.15,000
Shaswatha Devi Sharannavaratra Nidhi – RS.51,116
Sri Vidya Saraswathi Prasada Vitharana Society
Anna Daanam for 1 Day every year (by donation of 1 Qtl Rice every year ) Scheme – RS.3,500
Anna Nidhi – Maha Raja Poshakulu – RS.1,11,116
Anna Nidhi – Raja Poshakulu – RS.51,116
Anna Nidhi – Poshakulu – RS.25,116
Anna Nidhi – Upa Poshakulu – RS.11,116
Sri Sharada Vaidika Smartha Vidyalayam
Veda Nidhi – Maha Raja Poshakulu – RS.25,116.
Veda Nidhi – Raja Poshakulu – RS.11,116
Veda Nidhi – Poshakulu – RS.5,116
One-day meals for Veda Patashala Students – RS.2,516
One-time meals for Veda Patashala Students
The Wargal Temple is dedicated to Goddess Saraswati Devi. The garbhagriha is located at a level nearly equivalent to the third floor. The Goddess is seen to be in full glory decorated with a lot of jewels and garlands and adorned in a saree. There is an idol of Goddess about 10 feet high in front of the temple, which is a magnificent piece of art.
The other temples in the complex are Sri Lakshmi Ganapathi, Lord Shanishwara and Lord Shiva. There are two Vaishnava Temples here, which are almost in ruins as of now. These two Vaishnava Temples are said to have been built during the reign of the Kakatiya rulers. A huge victory pillar is also located nearby. With a height of about 30 feet, it has statues of Lord Rama, Goddess Sita, Lord Lakshmana and Goddesses Lakshmi over it. The temple has a Veda Paathashaala on its premises where many students learn Vedas.
Many families visit this temple for their children's Aksharaabyasam before they join school for the first time. Meals are provided for free for all the devotees at the temple premises called as Nitya Annadanam.
Vasantha Panchami, Navartri Mahaotsavams and Shani Tryodasi festivals are being celebrated in a grand manner in this temple. Moola Nakshatram (Birth star of Goddess Saraswati) is the most auspicious day for worshiping Saraswati Devi. During this day special rituals are performed at the temple.
Thousands of families attend the Aksharabhyasa along with their children on Vasantha Panchami (Jan/Feb) which attracts around 25-30 thousand devotees. Darshan usually takes 2-3 hours during Vasantha Panchami and Aksharabhyasa might take at least an hour extra.