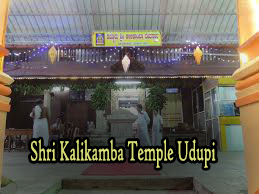 Sri Kalikamba temple is a 14th century shrine situated at Barkur, in Udupi district of Karnataka. It is one of the ancient shrines in the district. The temple enshrines a beautiful idol of Goddess Kalikamba carved out of "Neelanjana" granite. The idol has a symbol of a camel at its base (Pani Peetha).It is believed that the idol of Goddess was installed by Vishwakarma Brahmins as per the directions of Anegondi seer.Sri Kalikamba temple was renovated in 1995. The temple promotes the study of Veda, astrology and Sanskrit at Vishwa Brahmana Sanskrit Vidyapeetha, an institution started in 1997 at Kodankur.
Shri Kalikamba Temple Kaup is in Udupi Karnataka State in India.
Shri Kalikamba Temple Kaup Pincode is 574106 ( Kaup ) .
Near by railway Stations are Padubidri.
It is in 13 Km distance to Udupi City.
The town is about 3 miles (5 kms) east of the Arabean Sea Coast. The delta of SITA is broad and very beautiful. It provided safe ancharage to vessels, commercial and other wise, from countries far and near.
Barkur is about 3 kms north of Brahmavara, which in turn is about 12 kms north of Udupi, on the N.H. 17. it has good transport and communication links.
Traditional accounts about this place are also very strong. It is said that, Emperor Vikramaditya (of north Indian fame) ruled here and his golden throne is burried here. Another account tells us about the ship building industry and foreign trade activities of this place along with a king called Bhutala Pandya, who blessed by the Devil – Kundodara. Mystitued the famous aliya santana system which exists even to-day in the Jaina and Bunt communities of the entire Tulu-nadu.