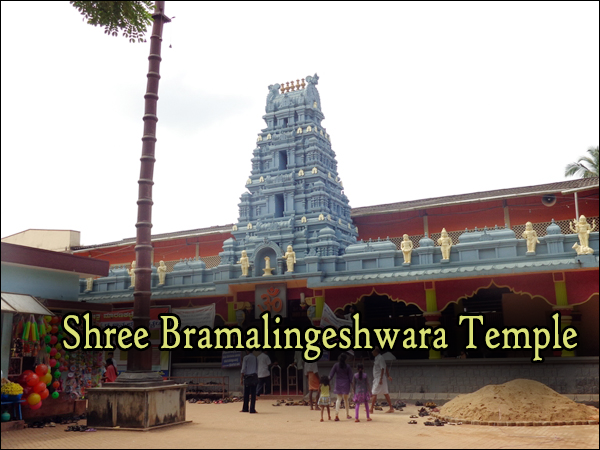 Maranakatte is located about 16 Km from Kundapura on the way towards Kollur. Maranakette is situated at a place called Kanchinakodlu.
It is believed that Goddess Mookambika performed a Marana homa after killing demon Mookasura at this place and hence the name Maranakatte. The main attraction of this place is attractive temple dedicated to Lord Brahmalingeshwara.
Address
Sri Brahmalingeshwara Temple
Shree Kshethra Maranakatte
Chittoor
Kundapur Taluk
Udupi District
How to get there:
Nearest Airport: Mangalore International Airport
Nearest Railhead: Kundapura
Road: You can hire a Taxi from Kundapur to visit Maranakatte.
The Brahmalingeshwara temple is surrounded by the stream called Brahma Kunda. The Brahma Kunda stream flows to north of the temple. This stream enhances the scenic beauty of the forest and surrounded hills. It's a common practice that devotees who comes here take the holy dip in this stream and then continue to perform the rituals.
Mookambica Bramalingeshwara
In nearby Kollur, which is 80 km. from Udupi, the Mookambika temple is located. This is where the Goddess Mookambika performed a Marana Homa yajna after killing the demon Mookasura (Mahishasura).
Pilgrims traveling to Kollur in Udupi district to visit the famous Mookambika temple always make a stop at Maranakatte, because the entire region is associated with Mookambika's killing of the demon Mookasura with Sri Chakra. The name 'Maranakatte' literally means, 'the altar of death'.
The worship of Shri Yakshi and Shri Brihalingeswara Devaru goes on at both temples. At Mookambika, there is a Sri Chakra Yantra that was installed by Adi Shankaracarya.
In descriptions of how Durga Ma came to be known as Mookambika and how she incarnated in this place, we read that Lord Shiva created a Sri Chakra here, and the geography itself is in the form of a chakra. In Kolhapura, Mahalakshmi is in the Shakti form and in Kolpuri, she is in Vishnu's form, known as Vaishnavi.
The Sage Kola, a Brahma-maanasa-putra (son born from the mind of Brahma) did penance here for vanquishing of demon Kolasura. While deep in meditation, he had darshan of Lord Visnu and Shiva. Lord Brahma also came with all the Devatas. This led to the pastime of Durga's slaying Mahishasura.