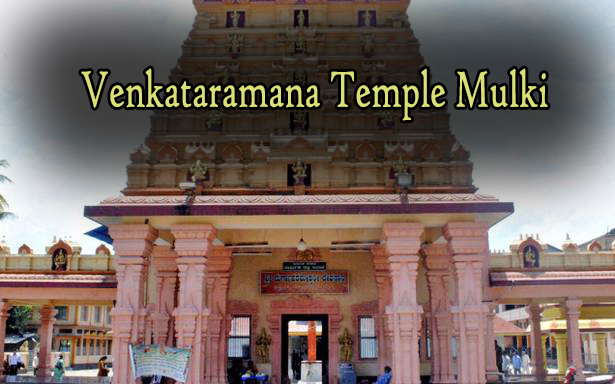 Mulki happened to be the capital of a small kingdom of Jain rulers called Savanths. Standing on the banks of river Shambhavi, close to the Arabian sea the town boasts of one of the most prominent temples of GSB community. On the eastern part of Mulki facing East is our Shri Venkataramana Temple located in an area called Vola-Lanke which if literally translated into English means the Inner Lanka.
Distance (From Mangalore): 29 Kms
Visited From: 
Mangalore
Trip Duration (Including Travel): 
2 Hours
Transportation Options: 
Bus / Cab
Timings: 6:30 AM to 1 PM & 6 PM to 8:30 PM
Travel Tips: This place can be visited along with Bappanadu Durga Parameshwari Temple – Mulki (1 Km)
At a distance of 29 Kms from Mangalore & 29 Kms from Udupi, Sri Venkata Ramana Temple located in Mulki is a 12th century temple dedicated to Sri Venkateswara (another form of Lord Vishnu). Mulki is situated on the banks of River Shambavi on NH 17 between Mangalore & Udupi. Sri Venkataramana, Bindu Madhava, Lord Vittala and Ugra Narasimha are worshipped in this temple.
The history of the place indicates that Sri Vijayendra Yathi of Kashi Mutt installed the image of Ugra Narasimha belonging to Vijayanagar here in 1565. Mulki was earlier known as Mulikapur, once ruled by Samantha kings. Now one can see the palace and the old ruins of the fort of Samantha Kings. The Bappanadu Durga Parameshwari Temple and the temples of Somanath and Narayana are the other shrines of the Mulki.
A buffalo race called Arasu Kambala is held here annually. Annual Car Festival is celebrated in December on Pratistha Poornima, the installation day of Lord Narasimha.